Liquid Egg Market
Liquid Egg Market By Product Type (Whole Eggs, Egg Whites, Egg Yolks, Scrambled Mix), By Form (Frozen and Refrigerated Liquid Eggs), By Source (Conventional, Organic and Cage-free Liquid Eggs), By End-use Application, By Sales Channel - Forecast 2021-2031
FACT6861MR
Sep-2021

List of Tables : 118

List of Figures : 107

170 Pages
Liquid Egg Market Outlook
Latest released report on the global liquid egg market by Fact.MR estimates sales to account for US$ 4.8 Bn in 2021, with the market expected to witness lucrative growth of a CAGR 6% to close in on a value of US$ 8.7 Bn by 2031. By volume, the market size is estimated to be 3,224,197 MT in 2021.
Liquid egg business research performed by Fact.MR includes key findings such as the latest and speculative production capacity, capacity utilisation rates of each manufacturer, recent and speculative pricing, and price optimization strategy across the value chain, as well as an economic evaluation of liquid egg production.
Interested to Procure The Data
Key Points Covered in Liquid Egg Industry Survey:
Liquid Egg Protein Market Estimates and Forecasts (2016-2031)
Production Capacity Analysis of Prominent Manufacturers
Liquid Egg Protein Pricing Analysis
Product Pricing Optimization Strategy
Associated Industry Analysis (Egg products Market Overview)
Key Drivers and Restraints Shaping Market Growth
Segment-wise, Country-wise, and Region-wise Analysis
Competition Mapping and Benchmarking
Market Share Analysis
COVID-19 Impact on Liquid Egg Demand and How to Navigate
Exclusive Sales Assessment of Liquid Eggs
Recommendation on Key Winning Strategies
Sales Analysis of Liquid Eggs from 2016 to 2020 Vs. Market Projections for 2021 to 2031
The processed egg market is one such industry where manufacturers have few alternatives to transform basic product substantially. However, manufacturers have adopted to trends in consumption of processed egg products by offering innovative packaging, improved product quality, cleanliness, and customised proportions of egg products.
Value-addition has also enhanced product offerings in the market. Consumption of processed egg products is expected to rise as a result of demanding lifestyles. Consumers prefer processed food because it is more convenient and requires less cooking time.
Liquid eggs are an economically viable food source that are rich in protein and other essential nutrients, which is expected to be a significant factor in rising egg consumption rates globally. In 2018, global egg consumption was estimated to be 9.8 kg per capita, and it is estimated to increase further during the forecasted period, resulting in growth of the liquid egg industry.
The global market is expected to witness steady growth surging at a CAGR of 6.2% from 2021 to 2031, compared to a CAGR of 5.2% over 2016 to 2020, according to Fact.MR.
An Adaptive Approach to Modern-day Research Needs
Will the Foodservice Industry Contribute to Increased Sales of Liquid Eggs?
A significant proportion of global liquid eggs produced are utilised in the foodservice industry owing to reduced labour and lesser errors associated with their application.
Liquid eggs not only make it easier to make egg-based recipes, but they also give uniformity in measurement and ensure safety and quality. Restaurants and bakers are not required to shell eggs. There is no waste due to breakage, lowering production costs.
Often, egg product vendors sell premeasured containers of liquid egg products to make incorporating liquid eggs in recipes even simpler.
Why is Demand for Cage-free Liquid Eggs on the Rise?
Cage-free liquid egg products are not different from conventional liquid egg products nutritionally. However, increasing consumer awareness regarding animal welfare and its effects on safety of foods is leading to increasing demand for free-range liquid eggs.
Cage-free/free-range/barn eggs allow hens to roam freely and provide dusting and perching areas, which contributes to the health of the hens. Most free range egg production is certified by regulatory bodies.
New Zealand is set to phase out cage eggs by 2022, while the Australian government has introduced a set of standards for free range egg production. Egg manufacturers in the U.K. have pledged to go cage-free in the next 5 years as well. France cage-free liquid egg sales are estimated to rise due to the government introducing norms for the nation to shift to 100% cage-free by 2025.
Due to consumer opposition of battery cages in poultry farming, manufacturers are shifting to cage-free production of eggs. Several foodservice establishments have also pledged their commitment to the cause. Walmart, Sysco Foods, Sodexo Canada, and McDonald's are a few companies that have pledged to go cage-free.
The International Dairy Queen Corporation (IDQ), a leading quick service restaurant, announced its commitment to go cage-free in its USA and Canada market by 2025.
These business pledges would imply that cage-free eggs would contribute to almost 50% of the egg products market share by 2025.
Avail customized purchase options for your needs
Do Product Claims Impact Demand for Liquid Egg Products?
Product claims and certifications of liquid egg products are significant in several regions. Products claims such as natural, organic, and non-GMO highlight the product, which increases its appeal to consumers who prefer chemical-free natural food products.
Claims help consumers differentiate liquid egg products based on ingredients and enhance brand visibility. Consumers state that they prefer brands that offer liquid egg products with relevant health claims.
Further, importing liquid eggs to the Middle East and Indonesia strictly requires a Halal certification. Top brands of liquid egg products offer organic, non-GMO, halal, and kosher certified liquid egg products, which has contributed to increasing the sales of their products.
How will Introduction of Plant-based Egg Substitutes Affect Liquid Egg Demand?
Demand for plant-based food products has gained momentum globally owing to the increasing vegan population. In 2020, several food product manufacturers successfully ventured into manufacturing plant-based egg substitutes.
EVO Foods, an Indian start-up, UK's CRACKD, Just Eggs' scrambled egg alternative, and Egyptian start-up Zero Egg's plant-based egg products have lately created ripples in the market outselling well-known liquid egg brands.
Liquid egg demand is estimated to increase steadily due to its unique emulsification, foaming, and thickening properties that are important in the bakery and foodservice segment.
What are the Evolving Trends in Liquid Egg Packaging?
Manufacturers are transitioning to gable top packaging for their liquid egg products, as it is a high-end and sustainable packaging solution. Sales analysis of liquid egg packaging found that gable top packages feature a larger printing space which boosts brand visibility. Because of the airtight, light-proof design and convenient tap closure, it also helps keep liquid eggs safe and uncontaminated.
Packaging equipment manufacturers such as Bossar and Galdi are a few companies proposing modifications in liquid egg packaging. Ovostar Union is a leading liquid egg product manufacturer that announced its new gable top packaging format, Pure-Pak®, for its liquid egg products.
Improved packaging formats are estimated to appeal to retail consumers, increasing both, online sales and convenience store sales of liquid egg products.
Country-wise Analysis
What is the U.S. Market Outlook for Liquid Egg Products?
According to Fact.MR, the U.S. liquid egg market is estimated to expand at 4.1% CAGR during 2021-2031. In 2019, approximately 30% of the total shell eggs produced domestically were processed into egg products such as liquid eggs and dried egg products.
Egg product sales have gained momentum post December 2020. Retailers witnessed hike in demand for eggs and egg products, which is likely due to increasing awareness regarding the health benefits of egg consumption.
The Dietary Guidelines for Americans 2020-2025 edition emphasised the importance of eggs and egg products as a protein-rich food source for lactating mothers, infants, and individuals of all ages. Following the pandemic, this will help restore normalcy to the liquid egg supply chain in the United States.
In 2031, the North America liquid egg market is estimated to be valued at US$ 1.2 Bn, according to the study by Fact.MR. The U.S. market holds a significant share of 75.2% in the region, owing to the booming foodservice industry in the country, which contributes to a considerable proportion of liquid egg sales.
What are Key Trends Driving Sales of Liquid Eggs in China?
In 2020, a significant proportion of the China liquid egg market was sourced from conventional eggs. However, China's conventional liquid egg trends are expected to decline substantially due to rising consumer awareness of the link between animal health and welfare and food safety.
Outbreaks of zoonotic infections have drawn the attention of the general public and the national government to animal health and welfare, which will urge Chinese liquid egg manufacturers to shift to cage-free eggs during the forecasted period.
According to Fact.MR, the market in China is estimated to surge at 8.9% CAGR during the forecast period, owing to the emerging middle-class population. It is estimated that in 2020, total middle-income households in China contributed to over 50% of the population, making it an attractive segment for liquid egg companies in the country.
Is India Estimated to become a Top Exporter of Liquid Egg Products?
The Indian poultry industry is one of the fastest-growing sectors with enormous growth potential. However, the country's processed egg industry remains underdeveloped due to low demand for ready-to-eat and processed egg products.
At the moment, selling liquid egg products faces numerous challenges, including an uncertain market, increasing taxes on processed foods, competitive feed costs, and limited number of cold storage facilities. However, continuing research & development has resulted in low-cost domestic processing of liquid eggs.
Despite challenges in the domestic market, India is one of the leading exporters of processed egg products, including liquid eggs. Manufacturers compensated for relatively low sales in the country by exporting excess liquid eggs to the Middle East, United Kingdom, and United States.
According to Fact.MR, the India liquid egg market is expected to balloon at 9.6% CAGR from 2021 to 2031, making it one of the top producers of liquid egg products.
How are New Product Launches and Developments Shaping the U.K. Liquid Egg Market?
The U.K witnessed high frequency of new product launches and expansion of the market in recent years. For instance, Noble Foods Ltd. introduced a new Liquid egg brand named 'The Great British Egg Co.' in 2020. Two Chicks, a British Liquid egg whites brand, has entered the UAE retail market in 2020. St Ewe, a U.K.-based free range egg producer launched its new liquid egg white product range in Morrison Supermarkets across the U.K. in July 2021.
In 2020, several regulatory bodies and consumers urged the U.K. government to introduce stricter guidelines for egg products imported into the country. Reports claim that processed eggs imports have declined by 70% in the U.K., creating an opportunity for regional manufacturers to support increasing demand. Hence, product innovations and new product launches enable domestic players to gain a competitive advantage in the market.
According to Fact.MR, the U.K. market is expected to rise at 5% CAGR, making it one of the top producers of liquid egg products in Europe.
Who are the Leading Producers of Liquid Eggs in Germany?
The Germany liquid egg market is estimated to progress at a moderate CAGR of 2.5% during 2021-2031, owing to emerging market players in the country.
Some of the leading German liquid egg product producers include Eierhof Hennes GmbH, CEWO Wortmann GmbH, and Co. and OvoBest.
Category-wise Insights
What Effect Will Cage-free eggs Have on the Market?
On the basis of source, cage-free liquid eggs is accounted for nearly 38% of the market share in 2021. The segment is expected to rise at a CAGR of 7.5% and hold a significant share of 43.7% by 2031.
Increasing demand for humanely-raised poultry products combined with several countries introducing regulations for cage-free eggs are estimated to be significant factor for the rise in demand for free range egg products.
Additionally, recognised restaurants chains and foodservice establishments have pledged their commitment towards going 100% cage- free by 2025, which is estimated to raise the market share of cage-free liquid eggs during the forecast period.
Which is the Most Attractive Product Type of Liquid Eggs?
According to Fact.MR, liquid egg white products accounted for more than 35.8% in 2021, and the segment is estimated to rise at CAGR of 6.7% during the forecasted period.
Growing preference for liquid egg whites is prominently due to increasing = health conscious population who is seeking a low-cost, low-calorie diet rich in essential nutrients. Egg whites have a lower calorie profile than whole eggs and have a high protein content, which is estimated to boost demand for liquid egg whites in the dietary and health supplement sector.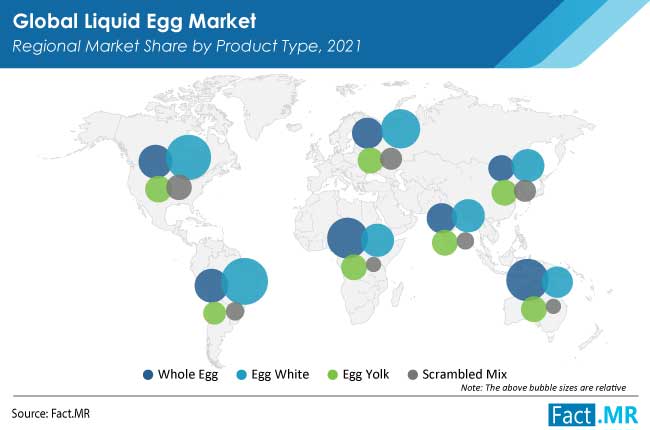 What is the Most Sought-after Form of Liquid Egg Products?
The refrigerated segment holds a significant share of 54.9% of the global market 2021. Refrigerated liquid egg products are easier to use in recipes, and hence, are the most attractive form.
The retail segment and foodservice industry contribute to significant revenue from sales of refrigerated eggs. Sales of frozen liquid eggs are estimated to remain stable during the forecasted period, owing to increasing foreign trade. Frozen liquid eggs are suitable for import-export of liquid eggs as this ensures extended shelf life of the product.
Why are the Pharmaceutical and Dietary Supplements Industries the Most Attractive for Liquid Eggs?
Eggs are a powerhouse of essential nutrients such as unsaturated fats, protein, vitamins, and other minerals, which make them a significant ingredient in dietary supplements. Compounds derived from egg yolk are considered as a valuable bio ingredient in manufacturing drugs. The diverse nutritional profile of eggs is estimated to drive demand for liquid eggs as a dietary supplement and pharmaceutical ingredient.
The pharmaceuticals and dietary supplements segment is expected to offer lucrative opportunities and rise at a CAGR of 7.4% during 2021-2031, according the report by Fact.MR.
How Has COVID-19 Impacted the Demand Outlook for Liquid Eggs?
The COVID-19 pandemic lead to disruptions in the supply chain of liquid egg products. The foodservice industry contributes to a significant share of liquid egg sales. With several restaurants and cafes closing down due to COVID-19 restrictions, manufacturers faced challenges in diverting the sales of liquid egg products towards the retail consumers.
Availability of labour and disruptions in the supply chain of feed also adversely affected the production of liquid eggs.
Despite disruptions, liquid egg manufacturers have had to continue to support increasing demand from retail consumers. Shifting consumer patterns towards functional food and healthy eating during the pandemic is estimated to a considerable factor in rising consumption of liquid eggs.
To alleviate supply shortages, numerous countries, including the United States, have relaxed limits on processed liquid egg products.
As home cooking and dining has become more common, liquid egg manufacturers are concentrating their efforts on retail customers. It is expected that attractive retail package formats and labelling will appeal to liquid egg product consumers, allowing companies to penetrate the retail market.
Competition Landscape
The market is highly fragmented with several producers of liquid egg products competing for a significant share in the market.
The global liquid egg industry has witnessed several strategic partnerships, joint ventures, and merger and acquisition activities during 2016-2020, and the trend is expected to continue during the forecasted period, owing to several key players seeking to consolidate their position in the liquid egg space.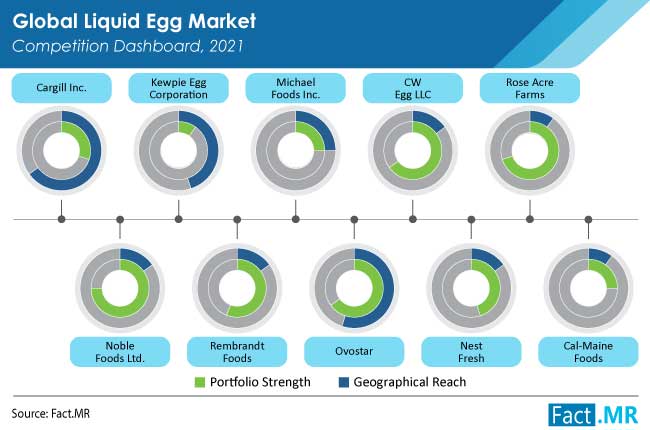 Fact.MR has provided detailed information about price points of liquid eggs, manufacturers positioned across regions, sales growth, production capacity, and speculative production expansion, in its recently published report.
Cal-Maine acquired shares of River Valley Egg Farm in May 2021 from Rose Acre Farms. River Valley was a joint venture between Rose Acre Farms and Cal-Maine Foods.
Noble Foods Ltd. Introduced a new Liquid egg brand named 'The Great British Egg Co.' in 2020, which will be an addition to its existing liquid egg brand in the retail market, 'The Happy Egg Co.'
Similar recent developments related to companies offering liquid eggs have been tracked by the team at Fact.MR, which are available in the full report.
Liquid Egg Industry Report Scope
Attribute

Details

Market size value in 2021

USD 4.8 Billion

Market forecast value in 2031

USD 8.7 Billion

Growth Rate

CAGR of 6% from 2021 to 2031

Forecast Period

2021-2031

Historical Data Available for

2016-2020

Market Analysis

MT for Volume and US$ Million for Value

Key Regions Covered

North America
Latin America
Europe
East Asia
South Asia
Oceania
MEA

Key Countries Covered

United States
Canada
Brazil
Mexico
Chile
Peru
Argentina
Germany
U.K.
France
Spain
Italy
Russia
BENELUX
Nordic
Poland
China
Japan
South Korea
India
Indonesia
Malaysia
Thailand
Singapore
Australia
New Zealand
GCC Countries
South Africa
North Africa
Central Africa

Key Market Segments Covered

Product Type
Form
Source
End-use Application
Sales Channel
Region

Key Companies Profiled

Cal Maine
Ovostar Union
Kewpie Corporation
Michael Foods Inc.
Sysco Corporation
Cargill Inc.
Nest Fresh Eggs Inc.
Global Food Group Inc.
Bumble Hole Foods
Rose Acre Farms
Others

Pricing

Available upon Request
Market Segments Covered in Liquid Egg Industry Analysis
By Product Type

Whole Eggs
Egg Whites
Egg Yolks
Scrambled Mix

By Form

Frozen Liquid Eggs
Refrigerated Liquid Eggs

By Source

Conventional Liquid Eggs
Organic Liquid Eggs
Cage-free Liquid Eggs

By End-use Application

Food Industry
Biotechnology
Cosmetic Industry
Pharmaceutical and Dietary Supplement
Animal Nutrition
Other Applications
Retail Sales

By Sales Channel

B2B
Ho-Re-Ca
B2C

Hypermarkets/Supermarkets
Convenience Stores
Specialty Stores
Wholesale Stores
Discount Stores
Online Retail
Mass Grocery Stores
Other Retail Formats