Pegfilgrastim Biosimilar Market
Pegfilgrastim Biosimilar Market Analysis By Application (Chemotherapy Treatment, Transplantation), By Distribution Channel (Hospital Pharmacies, Retail Pharmacies, Mail Order/Online Pharmacies) & By Region - Global Market Insights 2023 to 2033
Analysis of Pegfilgrastim Biosimilar Market Covering 30+ Countries Including Analysis of US, Canada, UK, Germany, France, Nordics, GCC countries, Japan, Korea and many more
Pegfilgrastim Biosimilar Market Outlook (2023 to 2033)
As per Fact.MR's latest industry analysis, the global pegfilgrastim biosimilar market stands at US$ 1.41 billion in 2023. Global demand for pegfilgrastim biosimilars is projected to reach a market valuation of US$ 3.66 billion by 2033-end, increasing at a CAGR of 10% over the next ten years.
Pegfilgrastim is created through a process called PEGylation, which involves the modification of the recombinant human granulocyte colony-stimulating factor (G-CSF) analog filgrastim.
Pegfilgrastim was introduced by Amgen Inc. as Neulasta in 2002, which was followed by the launches of several biosimilars in the market.
Pegfilgrastim, better known as Neulasta, functions as a supportive oncology medication to manage chemotherapy- and/or radiotherapy-induced neutropenia in cancer patients. With over 10 pegfilgrastim biosimilars already available and others in development, the market for pegfilgrastim biosimilars is expected to experience significant growth over the next decade.
Neutropenia, a condition characterized by a low neutrophil count, can lead to serious infections, making pegfilgrastim a critical component of cancer treatment. Biosimilars are drugs designed to be highly similar to reference biological drugs in terms of safety and efficacy. They offer several benefits including low treatment costs and high access to life-saving medications. The rising incidence of cancer globally is primarily driving the demand for pegfilgrastim biosimilars.
Chemotherapy treatment and transplantation are two major areas of application of pegfilgrastim biosimilars. Chemotherapy treatment holds a major share of the pegfilgrastim biosimilar market. Chemotherapy is a vital part of the treatment for various malignancies, but along with its benefits, it often comes with significant side effects such as poor immune health. One of the critical challenges in chemotherapy is managing neutropenia. Pegfilgrastim biosimilars have emerged as a crucial option in addressing this challenge.
Pegfilgrastim biosimilars are considered a prophylactic measure after chemotherapy to stimulate neutrophil production. Elevated neutrophil levels lower the risk of severe neutropenia and any chance of infections. Thus, pegfilgrastim biosimilars not only enhance patient outcomes but also contribute to cost-effective cancer care.
Mundipharma is a well-known United Kingdom-based company specializing in the production, advancement, and marketing of top-tier biosimilars produced for treating inflammatory diseases and oncology. In October 2018, the company completed the acquisition of Cinfa Biotech, This acquisition involved the purchase of all shares of Cinfa, including its biosimilar product Pelmeg, which is a biosimilar of pegfilgrastim.
Cinfa Biotech, established in 2013 as an integral part of the Cinfa Group, is a Spanish biotechnology enterprise with a specific focus on the development of biosimilars.
Report Attributes
Details
Pegfilgrastim Biosimilar Market Size (2023E)
US$ 1.41 Billion
Forecasted Market Value (2033F)
US$ 3.66 Billion
Global Market Growth Rate (2023 to 2033)
10% CAGR
Leading Regional Market
North America
Key Companies Profiled

Coherus Biosciences
Mylan N.V.
Biocon
Novartis AG (Sandoz)
Pfizer Inc.
Green Cross Corp
Accord healthcare
Intas Pharmaceuticals Ltd.
Zydus Cadila
Mundipharma
Fresenius Kabi
Don't Need a Global Report?
save 40%! on Country & Region specific reports
What's Influencing the Sales of Pegfilgrastim Biosimilars?
"Rising Adoption of Chemotherapy Driven by High Prevalence of Cancer"
Cancer is growing as a global health challenge affecting millions of individuals worldwide. The increasing number of cancer cases is influencing the healthcare industry, particularly in the context of supportive care therapies such as pegfilgrastim biosimilars.
The World Health Organization (WHO) states that cancer was responsible for nearly 10 million deaths in 2020, making it the second leading cause of mortality worldwide. Moreover, the incidence of cancer is on the rise, primarily due to various factors such as lifestyle changes and environmental concerns.
Chemotherapy is still one of the primary treatment options for cancer. However, it poses its own set of challenges. One of the most significant challenges is chemotherapy-induced neutropenia (CIN). CIN can leave patients vulnerable to life-threatening infections, leading to treatment interruptions, hospitalizations, and compromised treatment outcomes.
Pegfilgrastim plays a pivotal role in mitigating the risk of CIN during chemotherapy. It promotes the production of neutrophils, helping maintain adequate levels of these infection-fighting cells in the bloodstream.
Pegfilgrastim biosimilars provide cost-saving benefits. Cancer treatment can be financially burdensome for both patients and healthcare systems. The affordability of pegfilgrastim biosimilars makes them an attractive option, allowing patients to access critical supportive care while reducing further healthcare costs.
"Innovative Formulations and Delivery Methods Enhancing Pegfilgrastim Biosimilar Efficiency"
In the evolving field of biosimilars, innovation is playing a pivotal role in improving patient outcomes and treatment experiences. Pegfilgrastim biosimilars are witnessing advancements in formulations and delivery methods. These innovations are not only transforming the therapeutic landscape but are also enhancing patient convenience and adherence.
Innovative delivery devices such as on-body injectors are being developed by key manufacturers. These devices offer a slow release of the medication over a specified period. This reduces the need for frequent injections and offers greater convenience to patients.
Researchers are also exploring extended-release formulations of pegfilgrastim biosimilars that require less frequent dosing. This is expected to help in reducing the number of clinic visits and injections. Although in the experimental stages, there is also ongoing research into the development of oral formulations of biosimilars.
"Biosimilar Interchangeability Offering Seamless Treatment Transitions"
The concept of biosimilar interchangeability is increasingly gaining attention within the pharmaceutical and healthcare industry. It represents a significant advancement in the field of biosimilars, offering the potential to enhance patient access, streamline treatment, and optimize healthcare costs.
Biosimilar interchangeability refers to the ability to switch a patient's treatment from a reference biologic to a biosimilar (or vice versa) without compromising safety, efficacy, or treatment outcomes. Achieving interchangeability needs a higher level of evidence and regulatory scrutiny compared to standard biosimilar approval.
Interchangeability can offer patients greater convenience by allowing them to switch between treatments, if necessary, without the need for additional clinical assessments or adjustments. Physicians gain the flexibility to choose the most suitable therapy based on clinical and economic considerations, potentially improving patient outcomes. Thus, biosimilar interchangeability is expected to boost market growth over the next 10 years.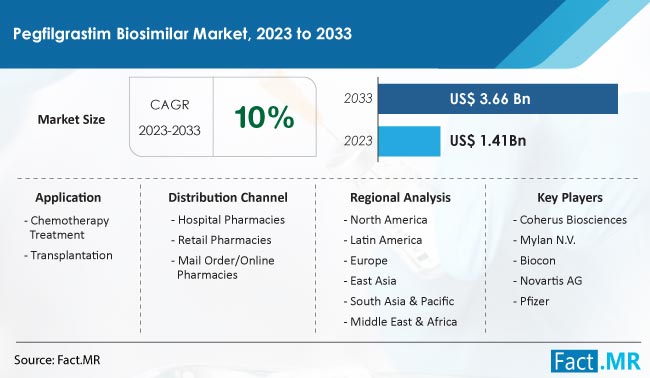 What is Challenging the Production Cycle of Pegfilgrastim Biosimilars?
"Complexity and Time-consuming Nature of Biosimilar Approval Processes"
While positive regulatory frameworks are supporting the innovation of biosimilars, the process of obtaining approval remains a formidable challenge. This complexity and time-consuming nature of biosimilar approval processes can indeed act as a significant restraint. Biosimilar developers are required to perform extensive analytical testing to demonstrate their similarity to the reference biologic. This is resource-intensive, demanding substantial time, expertise, and financial investments.
Regulatory guidelines for biosimilars can evolve, leading to uncertainty for manufacturers. Changes in requirements can necessitate additional studies or data, causing delays and increased expenses. Also, innovator companies often vigorously defend their biological patents through legal avenues, resulting in protracted patent litigation. Thus, biosimilar manufacturers may also face legal hurdles and delays, which overall hampers market growth.
More Insights, Lesser Cost (-50% off)
Insights on import/export production,
pricing analysis, and more – Only @ Fact.MR
How Can Start-ups Profit from Investing in the Market for Pegfilgrastim Biosimilars?
"Emphasis on Investments in Research and Development and Competitive Pricing"
Market entry can be challenging for newcomers, but several strategies can aid them in earning more and establishing a strong presence. New entrants should invest heavily in research and development activities to create biosimilars with improved characteristics, such as enhanced efficacy, reduced side effects, or innovative delivery methods. Innovative products can help them gain a competitive edge and command higher market shares.
Navigating the regulatory landscape is a crucial aspect. New companies should hire regulatory experts who understand the intricacies of biosimilar approvals. Collaborations with established pharmaceutical companies or research institutions can provide start-ups with access to resources, expertise, and distribution networks. Strategic partnerships can accelerate product development and market penetration.
Newcomers may adopt competitive pricing strategies to gain market share. Offering biosimilars at a lower price point than reference biologics or existing biosimilars can attract healthcare providers and payers, increasing market adoption. Engaging in patent strategies, such as challenging existing biologic patents or filing for new patents related to innovative aspects of biosimilars, can help newcomers protect their market position.
Country-wise Analysis
According to Fact.MR, a market research and competitive intelligence provider, the pegfilgrastim biosimilar sales are rising in the United States, Germany, and Japan due to patent expirations, regulatory support, cost containment strategies, product innovations, and the need to provide affordable access to critical medications. These factors are expected to continue driving demand growth in these countries during the next 10 years.
Why is the United States a Profitable Market for Pegfilgrastim Biosimilar Producers?
"Biologics Patent Expirations and Supportive FDA Regulatory Policies"
In the United States, the expiration of patents related to biological drugs is paving the way for biosimilars to enter the market. This is leading to high competition, thus driving down prices and making healthcare more affordable.
The United States FDA has been actively supporting the development and approval of biosimilars, including pegfilgrastim biosimilars, through its Biosimilar Action Plan. This is boosting confidence among pharmaceutical companies to invest in biosimilar development initiatives.
Why are Sales of Pegfilgrastim Biosimilars Increasing in Germany?
"Emphasis of Healthcare Sector on Cost Containment"
Germany has a well-established biosimilar regulatory framework. The country's early adoption and acceptance of biosimilars is creating a favorable environment for pegfilgrastim biosimilar market growth.
The country's healthcare system places a strong emphasis on cost containment. The introduction of pegfilgrastim biosimilars is helping the healthcare system save substantial amounts of money, driving their adoption. Several German pharmaceutical companies are actively engaged in the development and manufacturing of biosimilars, contributing to a competitive market.
What is Driving Pegfilgrastim Biosimilar Consumption in Japan?
"Rising Incidence of Cancer among Increasing Aging Population"
Japan's rapidly aging population is leading to a significant rise in the incidence of cancer. This is pushing the demand for cancer treatment drugs such as pegfilgrastim to manage the side effects of chemotherapy. Thus, the growing cancer patient population is primarily driving the consumption of pegfilgrastim biosimilars in Japan.
Local pharmaceutical companies in Japan are forming partnerships with international firms to develop and market advanced biosimilars. This move is not only increasing their profit shares but also market reach.
Know thy Competitors
Competitive landscape highlights only certain players
Complete list available upon request
Category-wise Analysis
Pegfilgrastim biosimilars are distributed through hospital pharmacies, retail pharmacies, and mail-order pharmacies. The dominance of hospital pharmacies in the pegfilgrastim biosimilar industry is due to their role as the central hub for cancer treatment.
Hospital's commitment to patient safety and the presence of effective drugs collectively position hospital pharmacies as the primary distribution channel for pegfilgrastim biosimilars.
Why are Pegfilgrastim Biosimilars Mainly Distributed Through Hospital Pharmacies?
"High Intake of Cancer Patients in Hospitals for Effective Treatment Procedures"
Hospital pharmacies hold a significant share of the global pegfilgrastim biosimilar market. Hospitals are the primary institutions for cancer diagnosis and treatment.
Pegfilgrastim, as a supportive therapy for managing chemotherapy-induced neutropenia, is most frequently administered within the hospital setting. This naturally leads to hospital pharmacies being a critical distribution point for pegfilgrastim biosimilars. Thus, the increasing intake of cancer patients in hospitals for treatment procedures such as chemotherapy positions hospital pharmacies as the primary distribution channel for pegfilgrastim biosimilars.
Competitive Landscape
Leading pegfilgrastim biosimilar manufacturers are focusing on the production of advanced formulations. This move is helping them enhance their product portfolio and market shares. Partnerships with other market players are also helping them increase their market reach.
Key Segments of Pegfilgrastim Biosimilar Industry Research
By Application :

Chemotherapy Treatment
Transplantation

By Distribution Channel :

Hospital Pharmacies
Retail Pharmacies
Mail Order/Online Pharmacies

By Region :

North America
Latin America
Europe
East Asia
South Asia & Oceania
MEA
- FAQs -
The global pegfilgrastim biosimilar market is valued at US$ 1.41 billion in 2023.
Demand for pegfilgrastim biosimilars is projected to rise at a CAGR of 10% from 2023 to 2033.
Sales of pegfilgrastim biosimilars are forecasted to reach US$ 3.66 billion by 2033.
Novartis AG, Pfizer Inc., and Green Cross Corp are some of the leading pegfilgrastim biosimilar manufacturers.
Presence of supportive regulatory policies in the United States driving manufacturers' revenue growth.