Extremities, or external articulated organs, execute several locomotive functions in a human body. A human body comprises four extremities, which include two lower limbs and two upper limbs. Extremities reconstruction refers to restoration of limbs & its functions in patients, who have suffered from limb removal owing to trauma or cancer. Extremities reconstruction is further divided into lower extremity and upper extremity.
The field of extremity surgery and implants has been witnessing a number of technological innovations, such as reverse shoulder implant, stemless shoulder implant, mobile bearing ankles, and advent of new & safer implant materials. Advancements in replacement of ankle joint have provided surgeons with more options in treatment of ankle arthritis.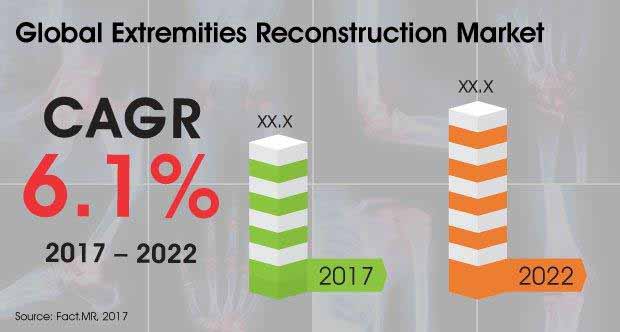 Development of new devices by leading companies, such as Zimmer Biomet's "Comprehensive Segmental Revision System", have been providing solutions for implant failures. In addition, small startup organizations are focusing on development of minimally invasive endoscopic procedures for extremities reconstruction, reducing the pain and recovery time of patients. For example – "HammerFIT Extremity Reamer System" has been launched by Instratek for hammertoe surgery. These advancements and innovations are expected to spur the market growth in the near future.
With advancements and improvements in healthcare facilities, the life expectancy of people across the globe has gained an uptick. However, the prevalence of joint disorders, such as the irreversible condition of osteoarthritis, increases indefinitely with the rise in aging population. In addition, number of cases related to sports injuries and trauma are also increasing. These factors will further drive demand for devices of extremities reconstruction across the globe. Moreover, advancements in healthcare infrastructure are also expected to fuel growth of the market. In contrast, unfavorable reimbursement policies, coupled with complication pertaining to extremities reconstruction surgeries are expected to hinder growth of the market.
Fact.MR's recent study anticipates the global extremities reconstruction market to register a significant growth over the forecast period 2017 to 2022. Revenues from the global market for extremities reconstruction are expected to exceed US$ 2,000 Mn by 2022-end.
Market Taxonomy
| | | |
| --- | --- | --- |
| Type | Biomaterial | End-User |
| Shoulder Reconstruction | Ceramic | Hospitals |
| Elbow Reconstruction | Metallic | Orthopedic Clinics |
| Hand & Wrist Reconstruction | Polymeric | ASCs |
| Ankle Reconstruction | | |
(Additional information, including cross-sectional data and country-wise analysis & forecast is available in the report)
North America to be Fastest Expanding Market for Extremities Reconstruction
North America is projected to be the fastest expanding market for extremities reconstruction, with sales poised to exceed US$ 600 Mn in revenues by 2022-end. The market in Asia-Pacific excluding Japan (APEJ) is expected to create an absolute $ opportunity of nearly US$ 110 Mn between 2017 and 2022.
Among types of extremities reconstruction, elbow reconstruction will remain more lucrative than hand & wrist reconstruction, but less lucrative than shoulder reconstruction during 2017 to 2022. Ankle reconstruction will account for the lowest revenues in the market.
Based on end-users, orthopedic clinics are expected to exhibit a relatively higher CAGR in the global extremities reconstruction market through 2022. Revenues from extremities reconstruction surgeries in orthopedic clinics are expected to reach approximately US$ 600 Mn by 2022-end.
Various biomaterials have been adopted for extremities reconstruction, including ceramic, metallic and polymeric biomaterials. Polymeric biomaterial is estimated to remain the least attractive in the market, whereas demand for ceramic biomaterial is projected to rise significantly over the forecast period.
Competition Tracking
Fact.MR's report has listed key players in the global extremities reconstruction market, which include Acumed, LLC, Arthrex, Inc., CONMED Corporation, Depuy Synthes, Inc., Integra LifeSciences Holdings Corporation, Medtronic Plc, Smith & Nephew Plc, Zimmer Biomet Holdings, Inc., Orthofix International N.V., Wright Medical Group N.V., and Stryker Corporation.
Note: The insights mentioned here are of the respective analysts, and do not reflect the position of Fact.MR
Rising geriatric population, owing to improvements in healthcare facilities is expected to lead towards higher prevalence of joint disorders. In addition, number of injuries related to trauma, and sports are witnessing a surge. These factors are expected to spur demand for extremity reconstruction devices in the upcoming years. This Fact.MR report analyzes the expansion of global extremities reconstruction market till date, and provides key insights on the growth of the market during the forecast period, 2017-2022.
Scope
The scope of Fact.MR's report is to analyze the global extremities reconstruction market for the forecast period 2017-2022 and provide readers an unbiased and accurate analysis. Medical device manufacturers, research institutes, and raw material suppliers in the global extremities reconstruction market can benefit from the analysis offered in this report. This report offers a comprehensive analysis, which can be of interest to leading trade magazines and medical journals pertaining to extremities reconstruction.
Summary
The report commences with a brief information of the global extremities reconstruction market. This executive summary sets the tone for the rest of the report, providing users the scope of the report. The executive summary includes important facts and statistics on the global extremities reconstruction market.
Overview
The next section offers an overview of the global extremities reconstruction market. This comprises an introduction to the market, along with a standard definition of the product – extremities reconstruction. In this section, market value and year-over-year growth is offered to the readers. Year-over-year growth provides readers with a broader view of growth patterns over the forecast period.
The report's succeeding section focuses on drivers, restraints and key trends from macroeconomic, demand, and supply perspectives. Impact analysis of weighted average model-based growth drivers is contained in the report for better provision of decision-making insights to clients.
In order to offer readers with up-to-date information about the latest advancements in the global extremities reconstruction market, the report provides updates about market opportunities, which can benefit leading manufacturers of extremities reconstruction. With continuous evolution of the healthcare sector, keeping a record of latest developments and trends is fundamental for extremities reconstruction manufacturers to formulate key business strategies. Detailed insights about raw material sourcing, supply chain, regulatory approvals, pricing analysis, list of distributors, and cost structure are provided in this section.
The Fact.MR's report offers segment-wise analysis and forecast for covering the wide scope of global extremities reconstruction market. The global market for extremities reconstruction is segmented on the basis of end-user, type, biomaterial, and region. This segmentation analysis provided is comprehensive, with detailed country-wise forecast offered across all key parameters of the market.
The report's last section comprises of the global extremities reconstruction market competitive landscape, to provide readers with the dashboard view of company analysis and market players. This competitive intelligence is based on the providers' categories across value chain, and their presence in the global extremities reconstruction market.
Research Methodology
Fact.MR is committed to offer unbiased and independent market research solutions to its clients. Each market report of Fact.MR is compiled after months of exhaustive research. We bank on a mix of tried-and-tested and innovative research methodologies to offer the most comprehensive and accurate information. Our main sources of research include,
Primary research
Secondary research
Trade research
Focused interviews
Social media analysis
Fact.MR offers custom research services that help clients to get specific research solutions
We are committed towards customer satisfaction and quality service.
---
Our Clients

Extremities Reconstruction Market Forecast, Trend Analysis & Competition Tracking: Global Market insights 2017 to 2022