Remote Destruction is the New-Found Capability of Military Drones
In recent years, drones have witnessed technological breakthroughs enabling them with destruction capabilities. The military will now be able to launch these drones with lethal precision, wreaking havoc on enemy territory. What makes them a potent weapon in warfare are their highly advanced and cutting edge video cameras, precision techniques and their robust stealth operation capabilities. Countries like India are harnessing this technology as can be seen in its recent purchase of 50 Harop attack drones from Israel. India's Defense Research and Development Organization (DRDO) is joining hands with a handful of private companies to develop its own indigenous attack drones. Similarly, countries like Syria are using cheap and commercial quadcopters to carry improvised bombs. These unmanned drones as weapons of destruction are rapidly transforming the drone market. Some of these drones are also called as Unmanned Aerial Combat Vehicles (UACV). UACVs with their precision guided bombs and missiles are witnessing steady growth in developed nations.
The US army has gone one step further to revolutionize the drone market by equipping its ground combat units with tiny drones which are able to conduct extensive spy and reconnaissance operations. These highly capable Nano drones are called black hornets and measure only 6.6 inches across and weigh ~ 33 gms. Thus, it is evident that the drone market in the military and defense sector will witness the maximum growth in the foreseeable future.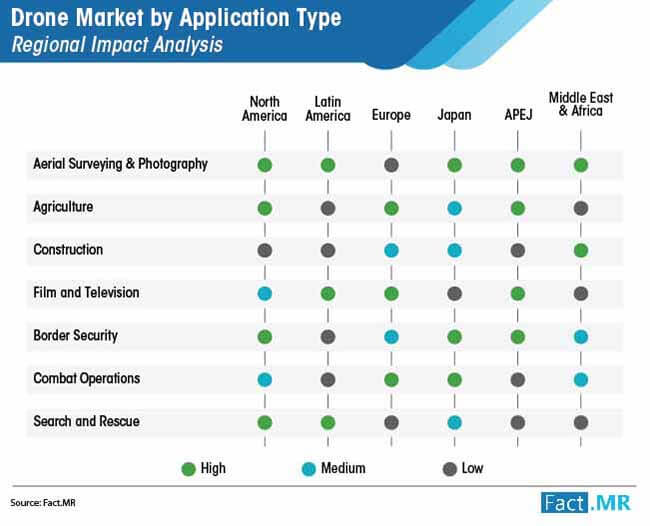 Improvements in Agricultural Yield and Weather Forecasting to be a Key Trend
With drones, farmers are striving to enhance crop yield and reduce costs in farming. With automation achieved through drones, agricultural workers are able to obviate redundant processes and streamline them to make them more operationally viable and more efficient. Drones utilizing robotics can smoothen out the tedious, repetitive and time consuming process of harvesting and also develop solutions for picking up produce or pollinating crops via aerial drones. The advanced imaging functionality of drones can help to monitor weather changes in real time. Thus weather patterns can be followed as they develop. For instance, autonomous sail boats which function as drones are able to collect oceanic and atmospheric data from the surface of the ocean and are used to depict imminent weather trends and patterns. With climate change drawing global attention, stakeholders are harnessing newer forms of software and hardware to be used in drones and this is bringing about a significant flux in the drone market.
Expanded Business Use Will be a Key Trend in the Commercial Drone Market
2019 will be a big year for the drone market as it makes headway in the commercial space. The construction industry is seeing a proliferation of drones for futuristic buildings. Inexpensive surveying of construction sites through advanced photography and keeping a track of activities via drones throughout the construction lifecycle will enable building managers to fulfill project deliverables efficiently in a short time span. Many industrial conglomerates and corporate houses are utilizing drones equipped with thermal imaging cameras to be used during emergency response as a means of establishing contact and identifying victims who are not visible to the naked eye. Similarly, hospitals are using ambulance drones equipped with defibrillators that can deliver timely resuscitation to a patient in need. With climate change having a devastating impact on wildlife, conservationists are using innovative drone technology to monitor and track endangered species and collect samples. The growing popularity of commercial and business models utilizing drone technology will provide just the right impetus to the drone market enabling stakeholders to up their game in operational efficiency.
Public Scrutiny, Civil Liability and Stringent Regulations Can Impact the Growth of the Drone Market
Despite the drone market growing by leaps and bounds, the general public still has many concerns with regard to their privacy, safety and security. These fears are further compounded with drones becoming a dangerous public hazard. Commercial drone operators need permission from land owners for aerial surveys, data mapping and inspections which could hurt their businesses. Similarly, many people are pushing for legislation which protects their rights to privacy. If these legislations and regulations are abided, property owners will have the right to establish 'no-fly' zones and 'no trespass' zones. This will inhibit the growth of the drone market in the commercial space. Norms for drone usage vary from region to region and are still very fragmented. Hopefully the coming months will see a unified drone regulation that will be universally applied across all regions. In the meantime, the market is seeing leading stakeholders enter into strategic partnerships with government entities to effectively address safety and privacy concerns surrounding drone usage.
Competition Analysis of the Drone Market Landscape
The drone market is showing remarkable growth with leading players like DJI and Parrot striving for autonomy in all their drone features and functionalities. R&D and collaborative partnerships seem to be the key strategies of frontrunners in the drone market. DJI Technology Co. Ltd, a Chinese company continues to dominate the drone market landscape in every drone product category from software, drone aircrafts and payload. Its remarkably aggressive growth can be attributed to its innovative product development and partnerships within the enterprise channel. For instance, in the year 2018, the company released two enterprise drone products known as Phantom 4 RTK and Mavic 2 Enterprise that target the industrial space. Their recent investment in a R&D facility in Palo Alto, California will further proliferate their growth in the drone market. Another key player is PrecisionHawk which has showcased its consolidation in the drone market in the year 2018 with its well-timed acquisition of Uplift Data Partners in a mere 5 to 9 months. Uplift provides specialized and turnkey solutions in construction and real estate. Uplift's commercially trained pilots will soon join PrecisionHawk's drones that already has a network of more than 15000 pilots. This will allow PrecisionHawk to build scalability at a good speed in the drone market which is rapidly evolving. In building market leadership, acquisitions are a critical tool to allow companies to not only forge ahead but also to provide clients with a broad range of technologies.
Drone Market - Scope of the Report
Fact.MR recently published a market study on the global market for Drone. The study provides detailed assessment on key market dynamics, including drivers, trends, opportunities restraints, and detailed information about the drone market structure. The market study presents exclusive information about how the market will grow during the forecast period of 2019-2029.
Key indicators of market growth, which include Year-on-Year (Y-o-Y) growth of the market, value chain, supply chain analysis, and Compounded Annual Growth Rate (CAGR) are explained in Fact.MR study in a comprehensive manner. This information can help readers understand the quantitative growth prospects of the drone market during the forecast period.
The study is relevant for stakeholders in the drone market, including manufacturers and investors, and can help them in developing appropriate strategies to grow in the market. Stakeholders in the drone market, investors, industry experts, researchers, and journalists, as well as business researchers can leverage the information and data presented in Fact.MR study.
The study also includes statistics as well as facts related to the macro as well as macroeconomic factors that are impacting developments in the drone market. It also offers actionable insights based on future trends in the drone market. Moreover, small businesses and new entrants in the market too can make use of the information presented in this study, based on which, they can make appropriate business decisions in order to gain momentum in the market.
Key Segments of the Drone Market
Fact.MR's study on the drone market offers information classified into four important segments: product, payload, application, and region. This market report proposes comprehensive data and information about the important market changing aspects and evolution structures related to these categories.
| | | | |
| --- | --- | --- | --- |
| Product | Payload | Application | Region |
| Commercial Drone | Upto 25 Kg | Aerial Surveying & Photography | North America |
| Military Drone | 25 Kg - 150 Kg | Agriculture | Latin America |
| | 150 Kg - 600 Kg | Construction | Europe |
| | Above 600 Kg | Film and Television | Japan |
| | | Border Security | APEJ |
| | | Combat Operations | MEA |
| | | Search and rescue | |
Key Questions Answered in Fact.MR Drone Market Report
Which regions will continue to remain the most profitable regional markets for drone market players?
Which factors will induce a change in the demand for drone during the assessment period?
How will changing trends impact the drone market?
How can market players capture the low-hanging opportunities in the drone market in developed regions?
Which companies are leading the drone market?
What are the winning strategies of stakeholders in the drone market to upscale their position in this landscape?
Which application will hold the largest value share in the drone market?
Drone Market: Research Methodology
In Fact.MRs study, a unique research methodology is utilized to conduct extensive research on the growth of the drone market, and reach conclusions on the foreseeable growth parameters of the market. This research methodology is a combination of primary and secondary research, which helps analysts ensure the accuracy and reliability of conclusions.
Secondary resources referred to analysts in the drone market study include statistics from governmental organizations, trade journals, white papers, and internal and external proprietary databases. Analysts have interviewed senior managers, product portfolio managers, CEOs, VPs, marketing/product managers, and market intelligence managers, who contributed to the development of this report as a primary resource.
Comprehensive information acquired from primary resources and secondary resources act as a validation from companies in the drone market, and makes Fact.MR projection on growth prospects of the drone market more accurate and reliable.
Fact.MR offers custom research services that help clients to get specific research solutions
We are committed towards customer satisfaction and quality service.
---
Our Clients

Drone Market Forecast, Trend Analysis & Competition Tracking - Global Market Insights 2019 to 2029