Hemianopsia Market
Hemianopsia Market Analysis By Type (Homonymous Hemianopsia, Quadrantanopsia, Bitemporal Hemianopsia), By Treatment (Vision Restoration Therapy, Visual Field Expander Aid), By End User (Hospitals, Speciality Clinics), & By Region - Global Market Insights 2023 to 2033
Analysis of Hemianopsia Market Covering 30+ Countries Including Analysis of US, Canada, UK, Germany, France, Nordics, GCC countries, Japan, Korea and many more
Hemianopsia Market Outlook (2023 to 2033)
The global hemianopsia market is valued at US$ 333.9 million in 2023 and is projected to reach US$ 720.9 million by 2033. Global demand for hemianopsia treatment solutions is forecasted to increase rapidly at a CAGR of 8% between 2023 and 2033.
Hemianopsia, also known as hemianopia or hemiopia, is a condition where an individual loses half of their visual field in one or both eyes due to damage in the brain's visual processing areas. This condition can be caused due to various conditions, including stroke, traumatic brain injuries, brain tumours, and other neurological disorders.
Around 2 billion people worldwide are living with some kind of vision disorder, according to WHO.
Hemianopsia is triggered by the central nervous system's disturbance of visual pathways. The rising prevalence of stroke and neurological disorders worldwide is boosting the demand for hemianopsia treatment solutions.
According to the Global Stroke Factsheet published by the World Health Organization (WHO) in 2022, the lifetime risk of having a stroke has increased by fifty percent over the past 17 years, with an estimated 1 in 4 people experiencing a stroke.
Lesions can be categorised as prechiasmal, chiasmal, or retrochiasmal. Monocular blindness is brought on by prechiasmal lesions, which damage the optic nerve of the affected eye. Bitemporal hemianopsia is caused by optic chiasm lesions that impair the medial decussating nasal fibers. Optic radiations, the primary visual cortex, and the optic tract can all be affected by lesions posterior to the chiasm.
Homonymous hemianopsia is typically caused by injury to the optic tract and primary visual cortex, whereas damage to the optic radiations causes an inferior or superior quadrantanopia. Homonymous hemianopsia can be further classified into right homonymous hemianopsia and left homonymous hemianopsia.
Macular sparing, also known as homologous hemianopsia with preservation of the central visual field, is a sign that the main visual cortex, which receives a dual circulatory supply from the middle and posterior cerebral arteries, has been damaged.
Technologies referred to as 'assistive' are those that aim to make it easier for persons with vision disabilities and other challenges to live a comfortable and normal life. Due to an increase in trauma cases and traffic accidents, the number of people with disabilities has been rising quickly in recent years. Future sales of assistive devices for the visually impaired are expected to be greatly influenced by the increasing prevalence of vision impairment and blindness worldwide.
Report Attributes

Details

Hemianopsia Market Size (2023E)

US$ 333.9 Million

Forecasted Market Value (2033F)

US$ 720.9 Million

Global Market Growth Rate (2023 to 2033)

8% CAGR

Leading Regional Market

North America

Key Companies Profiled

Vycor Medical, Inc.
RetroSense Therapeutics, LLC
Chadwick Optical
Healio
Carl Zeiss AG,
AbbVie Inc
Aerie Pharmaceuticals, Inc.
Novartis AG
AkzoNobel N.V.
F. Hoffmann-La Roche Ltd.
Don't Need a Global Report?
save 40%! on Country & Region specific reports
What is Driving the Hemianopsia Treatment Market Forward?
"Hemianopsia - Untapped Market Ripe for Innovation and Disruption"
The hemianopsia market presents both opportunities and challenges for newcomers. On the one hand, there is a significant unmet need for effective treatments for this condition, which affects a large and growing patient population. As awareness of the condition increases, demand for treatments is likely to rise, creating a potentially lucrative market for new entrants.
However, there are also significant barriers to entry in this field. The high costs associated with developing and marketing advanced treatment solutions, as well as the need to navigate complex regulatory frameworks, can make it difficult for newcomers to establish a foothold.
There are several established market players, including pharmaceutical companies, medical device manufacturers, and others. These companies have significant resources and expertise in the field, making it challenging for newcomers to compete effectively.
To succeed in this field, new entrants will need to develop innovative, cost-effective treatments that address the unmet needs of patients and differentiate themselves from existing players. They will also need to build strong partnerships with healthcare providers and payers, as well as invest in robust marketing and educational campaigns to increase awareness of their products and services.
Overall, while the hemianopsia market offers significant opportunities for newcomers, it is a highly competitive and complex field that requires careful planning and execution to succeed.
"Culprits Behind Hemianopsia - Stroke, Head Injury, and More"
A stroke, a head injury, a mass occupying lesion, invasive surgery, or a neurologic disorder such as multiple sclerosis, Alzheimer's disease, or epilepsy can all cause homologous hemianopsia. Pituitary adenomas, craniopharyngiomas, and meningiomas are among the mass-occupying lesions that are commonly linked to bitemporal hemianopsia.
Bitemporal hemianopsia can also be brought on by vascular diseases such as anterior communicating artery aneurysms or basilar skull trauma. Thus, increasing cases of all such disorders creates a high risk of hemianopsia, which further is likely to boost the sales of hemianopsia treatment solutions during the forecast period.
Hemianopsia is a visual field defect that occurs as a result of stroke, specifically damage to the brain's visual processing areas. A stroke, which is a disruption of blood flow to the brain, can occur due to either an ischemic stroke, where a blood vessel becomes blocked and restricts blood flow, or a hemorrhagic stroke, where bleeding occurs in the brain.
According to the Centers for Disease Control & Prevention, every 40 seconds one in the United States experiences a stroke.
Globally, traumatic brain injury (TBI) is a leading cause of health problems and visual disability. According to studies by "uptodate," estimates of the annual incidence of TBI range from 27 to 69 million worldwide.
According to a WHO report published in September 2022, over 55 million people worldwide suffer from dementia, with almost 10 million new cases being diagnosed each year. Alzheimer's condition is the most widespread type of dementia, accounting for 60% to 70% of the total number of cases of dementia, according to the WHO.
According to the study 'Rising prevalence of multiple sclerosis worldwide: Insights from the Atlas of MS, third edition', which was released in December 2020. There are around 2.8 million cases of multiple sclerosis (MS) globally.
Epilepsy is one of the most prevalent neurological diseases worldwide, with an estimated 50 million people suffering from it, according to the World Health Organization's February 2022 update.
"Hemianopsia Awareness on the Rise - Impact of Advanced Diagnostics on Public Health"
Development of advanced diagnostic technologies such as OCT (Optical Coherence Tomography), MRI (Magnetic Resonance Imaging), and CT (Computed Tomography) has greatly improved the diagnosis of hemianopsia. This has led to greater awareness and earlier detection of the condition, thereby boosting the growth of the market for hemianopsia.
"Virtual Reality, Prism Adaptation, and Visual Prostheses - Key Players Driving Hemianopsia Treatment to Next Level"
Key players in the hemianopsia market are taking major efforts on developing new technologies and treatment options for hemianopsia, such as virtual reality-based rehabilitation, prism adaptation therapy, and visual prostheses. These advancements are expected to generate potential opportunities in the hemianopsia market by increasing the availability of effective treatments.
"Small Incisions, Big Results Due to Minimally-Invasive Hemianopsia Treatment"
There is a growing preference for minimally-invasive treatment options, such as visual field restoration therapy, which has minimal side effects and faster recovery time compared to invasive surgeries. This is expected to drive the demand for non-invasive treatments for hemianopsia
More Insights, Lesser Cost (-50% off)
Insights on import/export production,
pricing analysis, and more – Only @ Fact.MR
Which Aspects Should Manufacturers of Hemianopsia Treatment Solutions Focus More On?
"Delayed Treatment and Poorer Outcomes Resulting from Misdiagnosis"
One of the key challenges is limited awareness and understanding of the condition among patients and healthcare professionals in some regions. Hemianopsia is not well-known and often goes undiagnosed or misdiagnosed, which can lead to delayed treatment and poorer outcomes for patients. In addition, there is often a lack of awareness of the available treatment options, which can limit access for patients.
Limited availability of specialized treatment centers and healthcare professionals with expertise in hemianopsia in developing or poor regions further hampers sales of hemianopsia treatment solutions.
"High Overall Treatment Costs"
Another challenge is the high costs associated with diagnosis and treatment. Diagnostic tests such as MRI or CT scans can be expensive, and specialized treatment options such as visual field restoration therapy or visual prostheses may not be covered by insurance. This can make it difficult for some patients to access the care they need.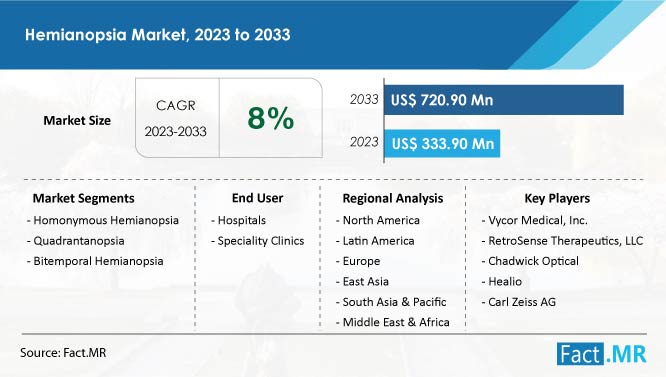 Country-wise Analysis
What is Influencing the Sales of Hemianopsia Treatment Solutions in the United States?
"Advanced Healthcare Facilities and Point-of-Care Services Driving Hemianopsia Treatment Solution Sales"
Advanced healthcare facilities, well-equipped hospitals, rising cases of strokes, and availability of point-of-care services are responsible for the maximum sales of hemianopsia treatment solutions in the United States. The significant demand for hemianopsia products is caused by a large patient population and ease of accessing advanced treatment.
More than 795,000 Americans experienced strokes in 2021, according to data released by the Centers for Disease Control and Prevention (CDC) in April 2022.
What is the Demand Outlook for Hemianopsia Treatment in Japan?
"Supportive Healthcare Initiatives Catalyst for Hemianopsia Treatment Technology Sales Growth"
Japan is a highly profitable marketplace for producers of hemianopsia technologies, as more than 30% of Japan's population is 60 or older. There is a high prevalence rate of eye disorders among the older population. In Japan, demand for advanced hemianopsia treatment options such as low-vision assistive devices and visual prostheses is expected to expand over the next 10 years as the country's ageing population grows.
During the next ten years, it is anticipated that the introduction of supportive government healthcare initiatives to enhance the quality of life for the elderly in Japan would have a significant influence on the sales of hemianopsia treatment technologies.
How is Demand for Hemianopsia Treatment Technologies Progressing in Germany?
"Germany's High Rate of Head Injuries & Skull Fractures Increasing Risk of Hemianopsia"
Germany is one of the leading marketplaces in the European region. This may be due to the presence of key market players and well-established healthcare facilities.
There is also a high rate of the elderly population and a prevalence of brain illnesses such as brain tumours, epilepsy, and stroke in the country. Therefore, each of these elements plays a big part in the growing demand for neurological monitoring equipment. Thus, the rising incidence of traumatic brain injuries increases the danger of hemianopsia, which further boosts demand for hemianopsia treatment devices.
In April 2021, a paper in the journal Safety Science revealed that Germany has a high rate of head injuries and skull fractures.
Know thy Competitors
Competitive landscape highlights only certain players
Complete list available upon request
Category-wise Analysis
Why Do Hospitals Account for High Sales of Hemianopsia Treatment Solutions?
"Advanced Technologies & Skilled Workforce Attract Target Patients"
Hospitals are playing a crucial role in boosting the sales of hemianopsia treatment solutions. With the rising prevalence of stroke and other neurological disorders, there has been a significant surge in the demand for hemianopsia treatment devices and solutions. Hospitals, being the primary centers for the diagnosis and treatment of these conditions, are preferred as the first choice for treatment procedures by target patients.
Hospitals are investing heavily in the latest technologies and equipment to provide advanced treatment to their patients. They are adopting low-vision assistive devices, visual prostheses, and several other treatment devices. This has led to a significant increase in the sales of hemianopsia treatment devices and solutions.
In addition to providing advanced treatment, hospitals are also conducting awareness programs and educational campaigns to create awareness about hemianopsia and its treatment options.
Competitive Landscape
Leading companies in the hemianopsia market are investing heavily in research and development activities to come up with innovative and advanced hemianopsia treatment solutions. This gives them an edge in the market and boosts their revenue growth. They are also entering into partnerships and collaborations with hospitals, clinics, and other healthcare providers to increase their reach and boost sales.
Key Segments of Hemianopsia Industry Research
By Type :

Homonymous Hemianopsia
Quadrantanopsia
Bitemporal Hemianopsia

By Treatment :

Vision Restoration Therapy
Visual Field Expander Aid

By End User :

Hospitals
Speciality Clinics

By Region :

North America
Latin America
Europe
East Asia
South Asia & Oceania
MEA
- FAQs -
The global hemianopsia market is currently valued at US$ 333.9 million.
Sales of hemianopsia treatment solutions are expected to reach US$ 720.9 million by 2033.
Demand for hemianopsia treatment solutions is predicted to increase at a CAGR of 8% from 2023 to 2033.
Vycor Medical, Inc., RetroSense Therapeutics, LLC, and Chadwick Optical are some of the leading companies in the market.
Increasing cases of brain injuries, stroke, and Alzheimer's are driving market growth substantially.