Global Annatto Market: Outlook
The global market has witnessed a rise in the demand for natural food ingredients and colorants, which can be attributed to the increasing consumer demand for naturally-derived and safer food ingredients. Color additives reinforce the colors already present in the food and ensure uniformity of the food from season to season and batch to batch. Over the years, the natural colorant market has evolved and has come up several new natural food colorants such as anthocyanins, beet colorants, carotenoids and annatto. Annatto colorants are derived from annatto seeds that grow on a tree called Bixa Orellana. The Bixa Orellana tree is known as Annatto or as 'Achiote' in large parts of South America and as 'Urucum' in Brazil.
Global Annatto Market: Rising Demand for Natural Food Color
Annatto seeds and extracts have been in use for over a century in Europe and North America to impart a yellow to red color to foods, especially dairy products such as Colby and cheddar cheeses. Today, annatto ranks second in economic importance worldwide among all natural colors and it is the most frequently used natural colorant in the food industry. Besides the food industry, the Annatto market has been slowing gaining traction in the cosmetic world as well. Cosmetic chemists have drawn inspiration from the use of annatto by the Amazonians for sunless tanners. While popular as a colorant, annatto is widely used in skin care products, especially brands that use all-natural ingredients as well. Annatto in its various forms, such as extract, oil and powder, is witnessing demand in large-scale food, cosmetic and retail sectors as well.
Global Annatto Market: Segmentation
On the basis of nature, the global annatto market can be segmented into:
On the basis of form, the global annatto market can be segmented into:
On the basis of product type, the global Annatto market can be segmented into:
Annatto - Bixin
Annatto - Norbixin
On the basis of end user, the global Annatto market can be segmented into:
Food Industry
Cosmetic
Retail
On the basis of the distribution channel, the global annatto market can be segmented into:
Direct
Indirect

Supermarket/Hypermarket
Convenience Store
Specialty Store
E-Retailers
On the basis of region, the global annatto market can be segmented into:
North America
Latin America

Brazil
Mexico
Argentina
Chile
Peru
Rest of Latin America

Europe

EU – 4 (Germany, France, Italy, Spain)
U.K.
BENELUX (Belgium, Netherlands, Luxemburg)
NORDIC (Norway, Denmark, Iceland, Sweden)
Eastern Europe (Poland, Ukraine, Czech Rep., etc.)
Rest of Europe

CIS & Russia
Japan
APEJ

Greater China
India
Korea
ASEAN Countries
Rest of APEJ

Middle East & Africa

GCC Countries
Turkey
Iran
Israel
South Africa
Rest of MEA
Global Annatto Market: Key Takeaway
Beta-carotene and annatto together comprise more than 70% of the carotenoid segment, which is being considered as the dominant segment. Moreover, the market is expected to gain traction in natural food colorant dominant regions such as Asia Pacific and North America.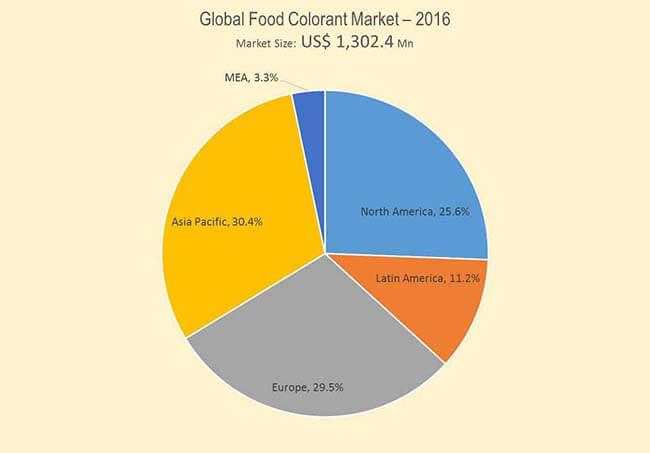 Global Annatto Market: Key Players
Some of the key players operating in the global annatto market include BioconColors, Amerilure Inc., Kalsec Inc., Sensient Technologies Corporation, D.D. Williamson & Co. Inc. and ADM (Wild Flavors), among others.
Global Annatto Market: Key Trends
Major shareholding companies in the annatto market have been executing strategic collaborations with peer companies to come up with innovative products.
Global Annatto Market: Key Developments
In 2018, FMC Corporation and Hansen, announced a five-year extension of their collaboration to develop and commercialize natural solutions for the agricultural industry
In Feb 2018, Sensient Technologies Corporation announced that it has reached a definitive agreement to acquire the natural color business of GlobeNatural, a leading natural food and ingredient company, based in Lima, Peru, owned by the Michell Group
Opportunities for Annatto Market Participants
The global natural food colors market incorporates coloring foodstuffs and minimally processed pigments derived from micro-lags, plant parts, fruits and vegetables for imparting color to various foods and beverages. North America is among the prominent regions for natural food colors owing to technological advancements in the natural color extraction process, economical and intense colors. The Asia Pacific is another considered dominant region for natural colorant market due to rise in consumption rate of the product. Hence these two regions are being considered as the opportunistic factor for annatto market in order to gain traction and accordingly generate sales.
Brief Approach to Research
The company will follow a modeling-based approach and triangulation methodology to estimate data covered in this report. A detailed market understanding and assessment of the applications, types, forms, and end uses of the product segments covered in the study is followed by carrying out a demand-side approach to estimate the sales of target product segments, which is then cross-referenced with a supply-side assessment of value generated over a pre-defined period. The statistics and data are collected at a regional level, consolidated and synthesized at a global level to estimate the overall market sizes.
Key Data Points Covered in the Report
Some of the key data points covered in our report include:
An overview of the Annatto market, including background and evolution
Macroeconomic factors affecting the Annatto market and its potential
Annattos Market dynamics, such as drivers, challenges, and trends
Detailed value chain analysis of the Annatto market
The cost structure of the products and segments covered in the study
In-depth pricing analysis, by key product segments, regions and by major Annatto market participants
Analysis of supply and demand, such as top producing and consuming geographies, imports/exports, and overall trade scenario
Analysis of the market structure, including a tier-wise categorization of key market participants
Competitive landscape of the Annatto market, including detailed profiles of the top players in this market
Fact.MR offers custom research services that help clients to get specific research solutions
We are committed towards customer satisfaction and quality service.
---
Our Clients

Annatto Market Forecast, Trend Analysis & Competition Tracking - Global Review 2018 to 2028