Birch Water Market
Birch Water Market By Flavor (Strawberry, Rose Chip, Bilberry, Apple Ginger), By Application (Food & Beverages, Nutraceuticals), By Distribution Channel (Online Retailing, Store-based Retailing), By Nature (Conventional, Organic), By Region – Global Market Insights 2022 to 2032
Analysis of Birch Water market covering 30 + countries including analysis of US, Canada, UK, Germany, France, Nordics, GCC countries, Japan, Korea and many more
Birch Water Market Outlook (2022-2032)
In the year 2022, the valuation of the global birch water market is US$ 1.4 billion and it is predicted to climb to a market size of US$ 3 billion by 2032-end. Projections are that demand for birch water is estimated to expand at a CAGR of 7.9% throughout the forecast period of 2022 to 2032.
Together, Europe and North America account for around 70.1% share of the global market owing to rapidly rising consumer awareness in these regions about the health benefits of birch water in recent years.
Birch water is not a novel concept as such, rather, people have been well-aware of this water for a long period, and it enjoys high popularity in parts of Canada, Eastern Europe, and China. In addition, more people are now aware of the medical properties of birch water across the world.
Birch water, also known as birch sap, is generally collected from birch trees. It is produced mostly in the northern hemisphere at the time when the winter season comes to its end. Birch water is produced on a seasonal basis and it doesn't take place the entire year.
Vital minerals and nutrients stored in the roots of birch trees are the sources of birch water. During the time of winter season, different nutrients are accumulated in these birch trees, and at the end of the winter season and beginning of the spring season, these nutrients are released in their respective sap. This water serves as an ideal drink that provides various health benefits to consumers.
A rapid transition towards organic ingredients is likely to serve as a pivotal factor and ensure a fillip to the consumption of birch water over the coming years. A significant change in the dietary patterns of consumers is estimated to mark the beginning of a new era where nutrition is likely to become one of the prominent considerations in the minds of people.
As mentioned earlier, North America and Europe are anticipated to serve as two leading markets for birch water and offer lucrative opportunities for industry players to expand their footprints across these regions.
Several manufacturers of birch water have introduced different flavors to make their products more appealing. New companies that are looking to enter this market can take a cue from this and launch innovative birch water products to carve a space for themselves in this space and gain decent ground in the market.
Report Attributes

Details

Birch Water Market Size (2022)

US$ 1.4 Billion

Estimated Market Value (2032)

US$ 3 Billion

Growth Rate of Global Market (2022-2032)

7.9% CAGR

Growth Rate of Market in Europe (2032)

5.2X

Key Companies Profiled

Sealand Natural Resources Inc.
BelSeva
Sapp, Inc.
Nature On Tap Ltd.
TreeVitalise
Sibberi Ltd.
Treo Brands LLC
Know thy Competitors
Competitive landscape highlights only certain players
Complete list available upon request
Which Factors are Estimated to Bolster Growth Opportunities in the Birch Water Market?
"Several Health Benefits of Birch Water Solidifying its Relevance"
Various health benefits are related to birch water and stimulate its application across different fields. Higher levels of minerals and manganese attest to its properties that benefit the health of human beings. These properties are likely to solidify its relevance for different end-use applications such as beverages, cosmetics, and pharmaceuticals.
Xylitol is naturally available in birch water. Xylitol is a low-calorie sugar that is highly used to make chewing gum and candies and provides a mesmerizing and sweet taste to birch water. Compared to other market beverages, birch water comes with a low-calorie quotient.
Drinking birch water regularly is helpful to prevent cavities and provides some benefits to the skin as well. Birch water competes well with coconut milk due to its ability to provide more health benefits with its lower sugar content. In addition, birch water is also helpful for the regulation of bone structure and blood sugar through the absorption of calcium.
Saponin is also found in birch water and the element is helpful for the easy absorption of cholesterol. It is helpful for the kidneys as this component helps them get rid of urea, ammonia, and some other compounds. As such, it is helpful for the kidneys to prevent many diseases that can affect the organ. As a natural detoxing agent and natural hydrating drink, it has been gaining popularity as a health drink among the global population.
There are a lot of companies that provide birch water in bottles of glass as they conserve the taste and purity of birch water for a longer period. A lot of emerging companies have also developed suitable packaging for these drinks to extend the convenience of consumers. In addition, manufacturers are also introducing different flavors to make birch water more interesting, colorful, and delicious.
"Increased Production of Birch Water to Cater to Rising Demand in Skincare Products"
Birch water is being used as a replacement for water in various East Asian skincare products. As such, some leading companies dealing in birch water such as Alaska Wild Harvest, LLC and Nordic Koivu Ltd. are putting in efforts to increase their capacity for the production of this water.
Straikas, one of the largest producers of birch water, is constantly increasing its capacity for the production of birch water since 2014. However, some seasonal limitation to yielding the birch sap is predicted to restrict companies from increasing their capacity to produce this water as much as they would like.
Manufacturers need to invest a handsome amount in the storage tank for the storage of birch water. In addition, the extracted birch water requires processing to keep the already available flavor for a longer period.
Many companies, as per the present scenario, especially from Canada are putting initiatives for the adoption of vacuum tubing techniques to gather two or three times more sap from trees of birch.
Some facts mentioned in a study by Northern NY Agricultural Development Program:
The use of the vacuum technique is helpful to increase the capacity of production of birch water by 20.1%.
Several start-up companies are purchasing raw or unflavored water from companies, such as Nordic Koivu Ltd. and Straikas, to produce flavored birch water.
Which Factors are Projected to Restrict the Adoption of Birch Water to Some Extent?
"Unknown Side Effects of Birch Water Owing to Limited Research Potential"
Birch water is considered safe if it is consumed at a moderate rate. Further, the potential side effects related to excessive consumption of this water are not completely known to its consumers.
As per a study that is conducted on people with birch-pollen allergies around 39% of its participants tested positive for birch sap at the time of the skin-scratch test.
People with liver infections are more prone to experience adverse side effects of birch water if consumed excessively. This water carries a risk of toxicity caused due to manganese. So, there is a crucial requirement to measure the quantity of birch water consumption owing to these adverse effects on human beings.
These health issues caused due to excessive consumption of birch water are predicted to restrict demand for birch water in the years ahead.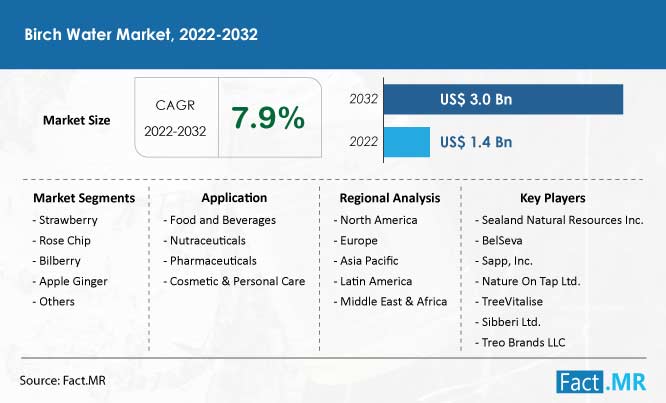 Which Region is Projected to Experience Demand for Birch Water?
"Increasing Consumption of Alternative Water Products in Europe"
In Europe, people are consuming alternative water at an increased rate which is further predicted to propel the demand for birch water in the coming years. Further, the market of Europe for birch water is likely to generate opportunities of around 5.2X over the decade.
The demand for flavored organic/natural beverages which provides many benefits is likely to offer numerous growth opportunities for industry players in the European region.
Birch trees are available at a noticeable rate in North America and Europe and further provide ample growth impetuses to evolving players in the global market. These players can start new business endeavors with the help of the easy availability of these trees.
However, new entrants need to invest a significant amount in warehouses for the preservation of birch water on a yearly basis.
More Insights, Lesser Cost (-50% off)
Insights on import/export production,
pricing analysis, and more – Only @ Fact.MR
Country-wise Insights
Which Countries are Anticipated to Become Next Big Targets for Birch Water Suppliers?
"Developing Countries Organizing Awareness Campaigns Related to Birch Water"
More than 70.1% of the total market share is held by Europe and North America at present. There are a lot of consumers around the world who are not aware related to the benefits of birch water and thus create a massive untapped market for this water.
Prominent and emerging players in the market take opportunities to increase their share while organizing a lot of awareness campaigns and some other strategies for growth. These campaigns are majorly organized in developing and underdeveloped countries to create novel demand for birch water in the forecasted period.
Companies including Belseva, Nature On Tap Ltd., and Sibberi have already started to penetrate these untapped market areas to increase their share in market revenue.
The market growth rate in the countries from Latin America, the Middle East & Africa, and South America is relatively slow. The manufacturers from the global market are targeting the population from these regions to generate ample growth opportunities to bolster their overall market standing.
Category-wise Insights
Which are the Preferred Flavors of Birch Water?
Based on flavor, the birch water market is divided into strawberry, rose chip, bilberry, apple ginger, and others. There are various varieties of these flavors which can vary according to geographical location. Based on the preferences of individuals, these flavors are gaining popularity in the global market.
Which Industries are Key Users of Birch Water at Present?
"Anti-Aging Activity of Birch Water Driving Sales in Cosmetics and Personal Care Industry"
Based on application, the birch water market is classified into food and beverages, nutraceutical, pharmaceutical, and cosmetics and personal care. Among these market segments, the cosmetics and personal care industry is likely to serve as the dominating industry to use birch water.
Birch water comes with noticeable anti-age activity. Cell proliferation analysis and cell cycle analyses have confirmed the use of birch water to speed up the regeneration of dermal cells compared to other options.
The skin cells are helpful to reduce the accumulation of different aging markers and indicate that the nutrients present in this water make the cells of the skin functional and healthy for a longer duration. In addition, birch water is also used to synthesize essential youth proteins such as elastin and collagen.
In addition, the rising use of birch water in a lot of products from the pharmaceutical industry is also likely to increase demand for this item in the coming years.
Which Distribution Channel is Becoming Popular for Selling Birch Water?
"Online Retailing to Account for High Demand Growth"
Based on distribution channels, the market of birch water is segmented into online retailing and store-based retailing. Between these two segments, online retailing is estimated to hold a dominating position in the industry owing to the numerous benefits of this marketing platform.
Consumers can make a comparative analysis of available products and have different platforms to purchase desired products. In addition, home delivery and easy return policies are also serving as noticeable perks to this distribution channel.
Which Type of Birch Water is Exhibiting High Sales Growth?
"With Traditional Tapping Method, Organic Birch Water Gaining Popularity"
Owing to nature, the market of birch water is bifurcated into conventional and organic. Between these two segments, organic birch water is used at a noticeable speed in recent years by consumers.
Organic birch water is harvested at a significant rate in the European region where sap is harvested on a sustainable basis. Producers only collect the sap that is available naturally without using any artificial means of production. Manufacturers use conventional tapping methods to produce this water.
Competitive Landscape
Key players serving in the global market are providing birch water in bottles made of glass as it helps conserve the taste and purity of the water for a longer time. Further, emerging companies are also taking efforts to develop suitable tetra packaging for this water to increase consumers' convenience.
Manufacturers are also concentrating on introducing different flavors to make the water more interesting, colorful, and delicious with the objective of boosting the aesthetic aspects of the drink.
Market players are incorporating a lot of strategies to stimulate growth opportunities in the global birch water market. Mergers & acquisitions, novel product launches, agreements, portfolio expansion, collaborations, partnerships, and many more strategies are being adopted by these players. Sealand Natural Resources Inc., BelSeva, Sapp, Inc., Nature On Tap Ltd., TreeVitalise, Sibberi Ltd., and Treo Brands LLC are some of the key suppliers of birch water.
Yönalé, a leading company in the food and beverages industry, in January 2019, introduced Yönalé Birch Water. This is a self-titled line of refreshing beverages from the company. This clean beverage based on plants is made to boost the human immune system.
Segmentation of Birch Water Industry Research
By Flavor :

Strawberry
Rose Chip
Bilberry
Apple Ginger
Others

By Application :

Food and Beverages
Nutraceuticals
Pharmaceuticals
Cosmetics and Personal Care

By Distribution Channel :

Online Retailing
Store-based Retailing

By Nature :

By Region :

North America
Europe
Asia Pacific
Latin America
Middle East & Africa
- FAQs -
Worldwide demand for birch water is like to reach a valuation of US$ 3 billion by 2032.
The market for birch water is anticipated to expand at a high-value CAGR of 7.9% through 2032.
The global birch water market has reached a valuation of US$ 1.4 billion in 2022.
Sealand Natural Resources Inc., BelSeva, Sapp, Inc., Nature On Tap Ltd., TreeVitalise, Sibberi Ltd., and Treo Brands LLC are prominent suppliers of birch water.
Sales of birch water in Europe are predicted to surge 5.2X by 2032.
Europe and North America account for 70.1% share of the global market.