East Asia Surging Ahead, while Europe Marches on in Aluminum Trays Market, Reveals Fact.MR
Published : 16 Oct 2019 Industry: Consumer Goods
The aluminum trays market continues to witness strong growth, with a CAGR growth of 5.8% during 2019 and 2027, according to a recent Fact.MR study. The market analysis has revealed that the growing demand of hygienic packaging solutions and extended shelf-life have led to the growth of aluminum trays in the global market. The overall sales of aluminum trays was pegged at around US$ 2.3 Bn in 2018 and likely to grow at a promising rate during the forecast period owing to growing demand for aluminum packaging solutions across the developed as well as developing economies. In addition, the growing market of ready-to-eat meals along with changing consumer preferences are among the key factors anticipated to amplify the overall sales of aluminum trays over the forecast period.
In the global aluminum trays market, East Asia is estimated to be the highly lucrative market and holds a dominating share in the global market. Presence of prominent market players, especially in South Korea and China, is expected to further augment growth of aluminum trays market in East Asia. On the other side, the growing demand of hygienic packaging solutions is expected to fuel the growth of aluminum trays market in the European region. The key manufacturers around the globe are also focusing on expanding their production and sales footprint in the emerging markets. For example, in 2017, i2r Packaging Solutions Limited, a leading aluminum trays manufacturer, acquired its distributor in South Korea. By doing so, the company is focusing on increasing its market reach and presence in the Asia Pacific region. The company also inaugurated a new warehouse in Telford, England at its manufacturing facility to expand its production and sales network in Europe.
Rigid Non-Compartmental Aluminum Trays are Making Gains in Several Applications
Fact.MR found that the rigid non-compartmental aluminum trays are being used for several applications in food & beverage industry like a baking tray due to its better heat conductivity. The growing application of rigid non-compartmental aluminum trays at food outlets, where it can be used as take-away containers is expected to increase in the forthcoming years. Manufacturers are also focusing on manufacturing non-compartmental aluminum trays in various sizes and shapes as per the customer's requirement. For instance, Wyda Packaging (Pty) LTD., a manufacturer of aluminum trays launched W4041 Swiss strudel tray, a new range of aluminum trays used for the baking of baklava, pizza bread and miniature rolls.
Emphasis on Consumer Convenience and Eco-Friendly Packaging
Increasing awareness among consumers regarding environmental impact of materials used in packaging and products, has led to many people prioritizing environment-friendly brands. Aluminum trays being fully recyclable, benefits the current and future generation by conserving energy and other natural resources.
According to independent estimates, almost 75% of one-billion tons of aluminum ever produced is still in active use across various industry verticals, including packaging and aluminum trays. This property of 100% recyclability of aluminum presents numerous opportunities to vendors to augment their product portfolio with more aluminum trays, coupled with a solid focus on consumer convenience.
The Fact.MR report offers forecast of the aluminum trays market for the period 2019-2027. According to the report, the aluminum trays market is projected to create total incremental $ opportunity of more than US$ 1.3 Bn during 2019 and 2027. The food sector continues to generate lucrative opportunities for leading market players to amplify their market share in the aluminum trays segment.
- Request for
More Information

-
Aluminum Trays Market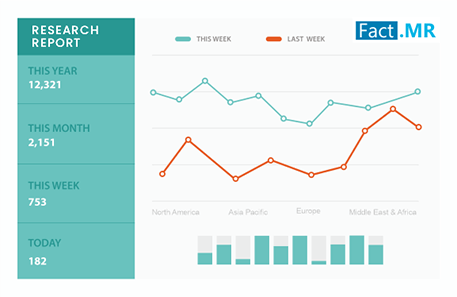 Aluminum Trays Market Forecast, Trend Analysis & Competition Tracking - Global Market Insights 2019 to 2027