Pegfilgrastim Biosimilar Market to Exhibit 10% CAGR through 2026; COVID-19 Pandemic to Have Moderate Impact on Market Growth
Pegfilgrastim Biosimilar Market
Published : 15 Oct 2020 Industry: Healthcare
Chemotherapy and/or radiotherapy is used for the treatment of most cancers. However, chemotherapy and radiotherapy have a very common side effect called neutropenia, and pegfilgrastim is required for its treatment. A study conducted on patients who received chemotherapy in 2016-2017 to evaluate the occurrence of chemotherapy-induced febrile neutropenia (CIFN) showed that, out of 200 patients, 9.5% patients developed neutropenia. Neutropenia patients are highly susceptible to infections, and for this reason, it is a life-threatening disease. Pegfilgrastim is advantageous over filgrastim in relatively decreasing the incidence of febrile neutropenia. In the future, pegfilgrastim biosimilars will provide better access to this treatment.
The pricing of pegfilgrastim biosimilar is around 25% to 30% lower as compared to originator products (i.e. Neulasta by Amgen). Lower prices of pegfilgrastim biosimilars are expected to enhance their adoption for neutropenia treatment in developed as well as developing countries, as multiple regional and global players are seeking to get marketing approval in various countries.
All in all, rising incidence of cancer and increasing use of chemotherapy for treatment will aid the expansion of the pegfilgrastim biosimilar market, which was valued at US$ 944 Mn in 2019, and is expected to exhibit a CAGR of over 10% over the forecast period (2020–2026).
Key Takeaways from Pegfilgrastim Biosimilar Market Study
The hospital pharmacies segment under the distribution channel category held half of the global pegfilgrastim biosimilar market share in 2019, owing to increasing cancer treatments such as chemotherapy and others. Retail pharmacies followed due to increasing number of prescriptions.
North America holds almost 3/4 of the global pegfilgrastim biosimilar market, followed by Europe, owing to large number of product launches in these regions.
The East Asia market year-on-year growth is expected to rapidly surge in the near future. This growth is due to increasing pool of patients and advancements in healthcare with government support, which will propel pegfilgrastim biosimilar market growth in Asian countries.
The COVID-19 pandemic that has swept the world is projected to have only a moderate impact on the progress of the pegfilgrastim biosimilar market.
"Increasing demand for cost-effective therapeutics such as biosimilars and patent expiration of blockbuster biologics will provide competitive benefits to market players in terms of new product development,"
says a Fact.MR analyst.
Increasing Consolidation among Key Players and New Product Launches
Increase in value chain partnerships and market consolidation activities such as collaborations, partnerships, and M&A among market players will be a significant tool to increase their capabilities and speed to market for new launches. For instance, Mylan and Biocon collaboratively worked on a partnership to launch Pegfilgrastim biosimilar Fulphila.
Manufacturers are making efforts to develop biosimilars, and, so far, in 2020, there were 4 biosimilar launches in the United States, and many more are anticipated to be launched. It is estimated that, the pipeline from 2021 to 2025 will have at least 5 approved biosimilars.
Looking for More Information?
The research study on the pegfilgrastim biosimilar market by Fact.MR incorporates an unbiased assessment of key demand-driving factors and trends, which have shaped the landscape of the pegfilgrastim biosimilar market over 2018–2019, and includes a detailed assessment of key parameters that are expected to exert influence over 2020–2026. Market statistics have been presented based on distribution channel (hospital pharmacies, retail pharmacies, and mail-order pharmacies), across seven major regions.
>>> To Get more insights on pegfilgrastim biosimilar market, visit-
https://www.factmr.com/report/1494/pegfilgrastim-biosimilar-market
Fact.MR's Domain Knowledge in Healthcare
Our healthcare consulting team guides organizations at each step of their business strategy by helping you understand how the latest influencers account for operational and strategic transformation in the healthcare sector. Our expertise in recognizing the challenges and trends impacting the global healthcare industry provides indispensable insights and support – encasing a strategic perspective that helps you identify critical issues and devise appropriate solutions.
- Request for
More Information

-
Pegfilgrastim Biosimilar Market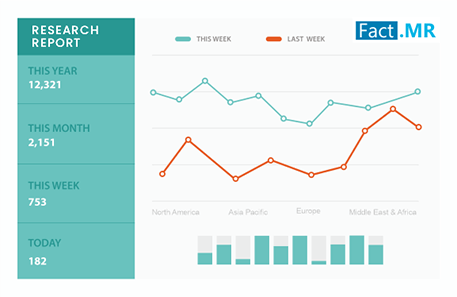 Pegfilgrastim biosimilar Market Analysis Report By Distribution Channel (Hospital Pharmacies, Retail Pharmacies, Mail-Order Pharmacies), By Region - Global Market Insights 2020-2026