Liquid Whole Eggs Hold More than One-third Market Share: Fact.MR Report
Published : 26 Aug 2021 Industry: Food & Beverage
As per Fact.MR, a market research and competitive intelligence provider, the global liquid egg market is projected to expand at a CAGR of 6% and close in on a valuation of US$ 8.7 Bn by 2031.
As there is a greater emphasis on food production sustainability due to environmental concerns, liquid egg manufacturers have introduced sustainable manufacturing and packaging alternatives to appeal to more consumers. The ability to produce food in a sustainable manner can be a big trigger for change, especially in developing countries.
Expected growth of the liquid egg industry is ascribed to producers' swift response. Several manufacturers are consciously lowering their carbon footprints by implementing advanced eco-friendly liquid egg processing technology. Further, shell eggs and liquid eggs that do not satisfy quality standards can be diverted into the production of animal feed, pet food, fertilisers, and even flooring tiles. This enables liquid egg manufacturers to dispose waste in a sustainable manner.
Several manufacturers have shifted to flexible eco-friendly cartons for packaging liquid egg products that will entice consumers to purchase their products. Scholle IPN is one such organisation providing eco-friendly packaging for liquid egg products. As the sustainable food movement gains traction around the world, it is expected that liquid egg manufacturers claiming to be environmentally friendly will lead market growth.
Key Takeaways from Market Study
The U.S. is estimated to account for 75.2% of the North American market in 2021, supported by a well-established foodservice industry in the country.
According to Fact.MR's analysis, China is estimated to account for 43.3% of the East Asian market share in 2021, supported by rising number of middle-income households.
The U.K is one of the potential markets in Europe, accounting for over 20% of value share, supported by increased demand for cage-free liquid egg products.
Liquid whole eggs are anticipated to hold 35.2% of the market in 2021, but liquid egg whites are expected to witness a lucrative growth rate of 6.4% CAGR over the forecast period.
Conventional eggs reflect around 45.2% of the market in 2021, owing to ready availability. However, organic liquid egg products are estimated to surge at 7.9% CAGR over the decade.
"Introduction of value-added products positioned in the market as healthy alternatives to shell eggs along with attractive packaging formats will drive sales of liquid egg products," said a lead analyst at Fact.MR.
Increasing Number of Egg Producers Diversifying Product Portfolios
Increasing number of egg producers seek to diversify their product lines from selling shell eggs to processed egg products such as liquid and dry eggs. Cal Maine Foods and Rose Acre Farms sell recognised branded shell eggs and have successfully ventured into producing liquid egg products.
Liquid egg production allows egg producers to vertically integrate all activities, such as layer procurement, chicken breeding, egg production and processing, and distribution, under a single unit. Vertical integration eliminates middlemen, lowers costs, increases manufacturing capacity, and aids in process and quality control.
Additionally, apart from conventional product offerings (liquid whole, liquid egg whites, and liquid egg yolks), manufacturers also offer customised blends and value-added liquid egg products that are appealing to consumers, such as liquid yolks with sugar, liquid whole eggs with citric acid, and liquid eggs with added proteins.
For instance, Bumble Hole Foods offers bespoke blends that include sugared yolks and whites, custard mix, and scrambled mix.
Grand Prairie accepts customised flavour orders from customers that are delivered by its R&D team.
Who is Winning?
One of the reasons projected to boost market expansion is the emergence of efficient and user-friendly distribution channels, such as online retailing. Liquid egg product manufacturers have partnered with well-known online retailers such as Amazon, Walmart, and Coles to market their products.
Furthermore, prominent liquid egg manufacturers sell wholesale liquid egg products through their own e-Commerce sites.
Ukraine-based Ovostar Union has its own website where customers can purchase bulk liquid egg products.
In the processed food sector, retail storage space and product availability are significant in establishing demand for a product. In response to increased consumer demand for organic egg products, manufacturers are attempting to transfer distribution from specialised channels to mainstream mass retailers.
Some of the leading companies offering liquid eggs are Cargill Inc., Cal Maine Foods, Rose Acre Farms, Rembrandt Foods, Nest Fresh, Noble Foods Ltd., Ovostar Union, Kewpie Corporation, CW Eggs LLC., and Michael Foods Inc.
Get Additional Valuable Insights
Fact.MR, in its new offering, provides an unbiased analysis of the demand for liquid eggs, presenting historical demand data (2016-2020) and forecast statistics for the period from 2021-2031.
The study divulges compelling insights on the demand for liquid eggs based on product type (whole eggs, egg white, egg yolk, and scrambled mix), form (frozen and refrigerated), source (conventional, organic, and cage-free), end-use application (food industry, biotechnology, cosmetic industry, pharmaceuticals and dietary supplements, animal nutrition, other applications, and retail sales), and sales channel (B2B, HoReCa, and B2C) across seven major regions of the world.
For more information, refer to our market research report or contact the PR author.
Santosh Kumar
Fact.MR
Sr. Consultant – Food & Beverages
E-mail: santosh@factmr.com
- Request for
More Information

-
Liquid Egg Market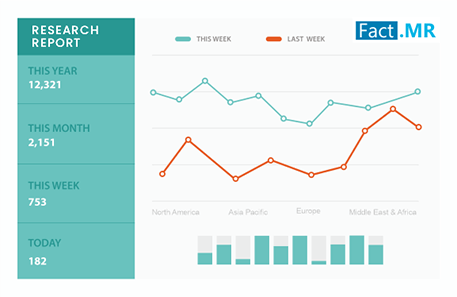 Rising Consumption of Processed Egg Products to Propel the Sales of Liquid Eggs during 2021-2031