Cheese Production to Make Maximum Use of Dairy Enzymes, Suring at 7% CAGR, Finds Fact.MR
Published : 06 Oct 2021 Industry: Food & Beverage
A recently published report by Fact.MR reveals that the global dairy enzymes market is projected to grow at a CAGR of 8% during the forecast period 2021-2031, surpassing nearly US$ 1.5 Bn in value terms. The market continues to be influenced by ever-evolving consumer preferences and tectonic shifts in the prevailing status quo.
According to Fact.MR's report, the industry experienced strong growth across the 2016-2020 historical period, clocking a CAGR worth 7% and surpassed US$ 650 Mn. As of 2021, it is expected to be valued at nearly 700 Mn. Prospects have further widened during the pandemic crisis, as demand for ready-to-eat dairy products experienced a tremendous incline throughout 2020.
Sustained demand from cheese and yogurt manufactures, coupled with the ubiquitous 'digestive health' trend promises a slew of opportunities, according to a new study. Demand has received a fillip as its application scope – which was once limited to enhancement and quality enrichment – now includes the fledgling infant formula landscape. Fact.MR anticipates that the global dairy enzymes market to surpass 270,000 tons in 2026, reaching US$ 1 Bn.
Key Takeaways from the Market Study
Animals & micro-organisms sourced dairy enzymes to account for 45% of the market
Cheese production emerged as main application area in 2020, generating US$ 150 Mn in sales, growing at 7% CAGR by 2031
North America to contribute significantly, surging at a value CAGR worth 7%
Prospects appear equally bright across Europe, growing at nearly 7% CAGR through 2031
Asia to emerge as the fastest growing market, clocking an expansion rate worth 8% from 2021-2031
"As dairy products manufacturers look to achieve production sustainability, investments in high-grade enzymes- both plant and animal sourced, is increasing, which are aimed at increasing shelf life of finished products," says the Fact.MR analyst.
Competitive Landscape
Prominent players in the market include DowDuPont, Kerry Group, DSM, Chr. Hansen, Novozymes, Advanced Enzymes Technologies, Amano Enzymes, Fytozimus Biotech, Enmex, SternEnzym, Biocatalysts, and Connell Bros, among others.
In March 2021, Amano Enzyme announced the launch of Umamizyme™ Pulse, a non-GMO enzyme designed for use in a variety of plant protein products to produce a pleasant, savory (umami) flavor, similar to that provided by monosodium glutamate (MSG), as well as a sensation of richness and complexity (kokumi) has been introduced by Amano Enzyme.
In September 2021, Novozymes announced that it is launching five powerful biological solutions that address key challenges for North American growers. The innovative products will enable farmers to improve yield and fertility and increase the application of biocontrol, while the expanding product portfolio brings new options for the agricultural industry in dealing with issues of nutritional availability and efficiency.
More Insights Available
In its latest report, Fact.MR offers an unbiased analysis of the dairy enzymes market, providing historical data for the period of 2016-2020 and forecast statistics for the period of 2021-2031.
Market statistics have been presented on the basis of product type (carbohydrates, proteases, polymerases & nucleases, lipases, phytases and other enzymes), source (plants and animals & micro-organisms) and application (milk, cheese, ice-creams & desserts, yogurts, whey infant formula and others) across seven regions (North America, Latin America, Europe, East Asia, South Asia, Oceania and Middle East & Africa).
Fact.MR's Domain Knowledge in Food & Beverages
Our food and beverages consulting team guides organizations at each step of their business strategy by helping you understand how the latest influencers account for operational and strategic transformation in the food and beverages sector. Our expertise in recognizing the challenges and trends impacting the global food and beverages industry provides indispensable insights and support – encasing a strategic perspective that helps you identify critical issues and devise appropriate solutions.
For more information, refer to our market research report or contact the PR author.
Santosh Kumar
Fact.MR
Sr. Consultant – Food and Beverages
E-mail: santosh@factmr.com
- Request for
More Information

-
Dairy Enzymes Market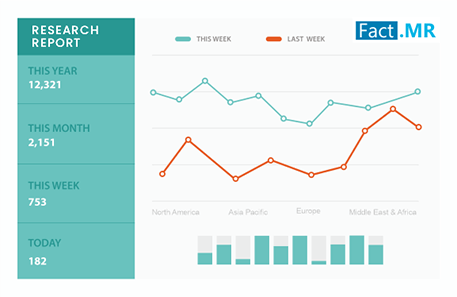 Dairy Enzymes Market Size, Share Analysis by Product Type (Carbohydrate Dairy Enzymes, Protease Dairy Enzymes, Polymerase & Nuclease Dairy Enzymes, Lipase Dairy Enzymes), by Source (Plant-based Dairy Enzymes, Animals & Micro-organisms-based Dairy Enzymes), by Application (Milk, Cheese, Ice Creams & Desserts, Yogurt) & Region – Global Forecast to 2031