Increased R&D Support for Domestic Consumption and Export of Surimi Products in Asia Boosting Market Growth: Fact.MR Report
Published : 08 Oct 2021 Industry: Food & Beverage
According to a recently revised Fact.MR report, sales of surimi are expected to reach a value of US$ 5.8 Bn in 2031, rising at a CAGR of around 6.1%.
Surimi is manufactured from freshly ground-fish, usually Alaskan Pollock. However, as global fishery resources are declining, there is increasing emphasis on utilizing low-value by-catch fishery species in the production of surimi. Future developments in the imitation crab meat industry are likely to be found in a few key areas. One important area of research has focused on the development of surimi from different kinds of fish. Also, environmental concerns will lead to new technologies that will minimize the amount of waste involved in manufacturing.
The MFRD (Marine Fisheries Research Department) is promoting quality of surimi for domestic consumption as well as export through continuous research and development in the field. The MFRD is supported by funding from the Japanese Trust Fund (JTF).
Moreover, through improved product development and advances in technological approaches, MFRD has continued to promote greater use of fisheries by-catch and low-value species through training and extension activities, and is providing technical assistance to the market in South East Asia. Primary goals include analyzing the status of demersal fishery resources as surimi raw materials in the region, empowering member countries, as well as future exploration plans of the surimi industry in the region.
Key Takeaways from Market Study
The U.S. is estimated to account for more than 91% of the North American market in 2021, supported by increased production of Alaska Pollock-sourced surimi.
According to Fact.MR analysis, China is estimated to account for more than 59% of the East Asian market share in 2021, driven by increased demand from the foodservice industry.
Spain is one of the prominent countries in the European market with a share of 18.4% in 2021, on the back of increased imports of surimi base.
Fish surimi is estimated to account for 86.9% market share in 2021, on the back of its nutritional properties and high-quality protein content.
Fresh surimi reflects approximately 57.8% of the market in 2021, but processed surimi is expected to witness a lucrative growth rate at 7.8% CAGR through 2031.
"Key players operating in the global market are investing in research & development facilities for new product developments. Manufacturers are focusing on sustainable farming of surimi," says a lead analyst at Fact.MR.
Innovative Manufacturing Technologies to Improve Production of Surimi
Manufacturing technologies are being improved in order to reduce the cost of surimi production. As a result, overall price of products is reducing. Since the commercialization of surimi technology in 1959, when the cryostabilisation technique was discovered, surimi processing has seen a number of breakthroughs. Major innovations in surimi processing include maximization of recovery using pH-modified protein and decanter centrifugation solubilization for all fish species.
Protease inhibitors and TGase for gel enhancement, modified starch for freeze-thaw resilience, improved pasteurization and packing for extended shelf-life, and nonconventional heat-setting techniques are all new innovations in surimi processing.
Who is Winning in this Space?
Surimi is becoming increasingly popular around the world. It is a high-protein, vitamin, and nutrient-dense food that is often used in imitation crab products. Surimi is becoming more popular among health-conscious consumers.
To meet growing demand for surimi, manufacturers are focusing on joint ventures to producing surimi products, as the process streamlines operations of companies involved—the production process is made more efficient due to strong infrastructure facilities, research & development, and funding. Leading companies, such as Aquamar Inc. and LM foods, have united their brands offering surimi products to gain a larger consumer base.
Some of the leading companies offering surimi are Aquamar Inc., Viciunia Group, Trident Seafoods, Pacific Seafood Group, SeaPak, Glacier Fish Company, Maruho Nichiro Group, American Seafoods Group, Russian Fishery Company, Seaprimexco Vietnam, Thong Siek Global, Trans-Ocean Products, Gadre Marine, Ocean More Foods Co. Ltd, and A B Gloden Seafood.
Get More Valuable Insights
Fact.MR, in its new offering, provides an unbiased analysis of the demand for surimi presenting historical demand data (2016-2020) and forecast statistics for the period from 2021-2031.
The study divulges compelling insights on the demand for surimi based on species (fish surimi and meat surimi), form (fresh and processed), sales channel (direct sales and indirect sales), and application (food industry, pharmaceutical industry, animal feed, pet food, food service, and retail), across seven major regions of the world.
About the Food & Beverages Division at Fact.MR
Expert analysis, actionable insights, and strategic recommendations of the highly seasoned food & beverage team at Fact.MR helps clients from across the globe with their unique business intelligence needs. With a repertoire of over a thousand reports and 1 million-plus data points, the team has analyzed the food & beverage industry across 50+ countries for over a decade. The team provides unmatched end-to-end research and consulting services. Reach out to explore how we can help.
For more information, refer to our market research report or contact the PR author.
Santosh Kumar
Fact.MR
Sr. Consultant - Food & Beverages
E-mail: santosh@factmr.com
- Request for
More Information

-
Surimi Market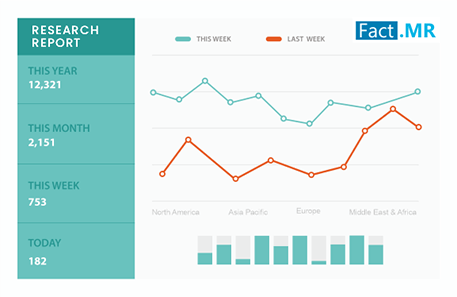 Surimi Market to Witness a Proliferating Rise in Demand for Processed Surimi during 2021-2031