Increasing Demand for Dried Eggs in Sports and Cosmetics Industries, Apart from Food Industry, Will Uplift Market Over Time: Fact.MR Report
Published : 26 Oct 2021 Industry: Food & Beverage
According to a recent report by Fact.MR, a market research and competitive intelligence provider, sales of dried eggs are expected to top a value of US$ 4.5 Bn by 2031, rising at a CAGR of around 8.2%, due to various alternative applications, not only in the foodservice and processing industry, but also in the cosmetics and health & wellness industry.
Dried eggs, being a good source of protein, which is required by the human body to repair and regenerate cells, are used in supplement products consumed by sport athletes. For instance, athletes require more protein than a normal person due to expending more energy. Protein aids in muscle repair and growth. As the duration and frequency of resistance training increases, protein supplementation with dried eggs helps build muscle mass and performance.
As for the cosmetics industry, protein-based compounds in personal care products are in high demand across the world. Many cosmetic businesses employ dried egg white in beauty products to exploit its skin rejuvenating capabilities, since it contains collagen and proteins that help tone and tighten the human skin. Dried egg white is used in face washes, serums, creams, soaps, shampoos, face masks, and other cosmetics. Egg white protein powder can also nourish and protect hair from damage and dryness.
All these benefits are driving steady demand growth of dried eggs across regions.
Key Takeaways from Market Study
The U.S. is estimated to account for 88.3% of the North American market in 2021, backed by an increased health-conscious population.
According to Fact.MR analysis, China is estimated to account for 46.4% of the East Asian market share in 2021, supported by increased demand from food service industries such as hotels, restaurants, and cafes.
Germany is one of the prominent countries in the European market with a market share of 23.7% in 2021, due to increased imports of dried eggs.
Whole egg product type of dried eggs reflect approximately 62.5% of the market in 2021, but egg white is expected to witness a lucrative growth rate of 10.2% CAGR over the forecast period.
The food processing industry is estimated to account for nearly 47% of the market in 2021, on the back of a wide range of applications, such as bakery & confectionery, ice cream and frozen desserts, creamy sauces, mayonnaise, salad dressings, and noodles & pasta.
"The market is being driven by convenience, upgraded storage qualities, ease of use, and longer shelf-life. Growing urban population and hectic lifestyles allow less eating time and need on-the-go food items. Dried eggs, being the cheapest source of protein and other vital nutrients, with technical improvements such as pasteurized and easy to use conditions, are in high demand," says a lead analyst at Fact.MR.
How is Reduced Logistics Cost Leading to Rise in Demand for Dried Eggs?
Fresh eggs are a very delicate product, even with the best handling methods. Losses can occur during handling due to shell breakage. This has a negative influence on the cost-to-revenue ratio, as a significant amount of money is being spent managing raw eggs during the logistics process.
As for dried egg, reduced weight per volume positively influences the weight-bulk ratio, with this being an advantage over fresh eggs in terms of lowering logistics costs as well less storage space and the absence of the requirement for refrigeration, resulting in upgraded demand for the product.
Will the Trend of Packaged Food Have a Positive Impact on Market Growth?
With the benefits that packaged food such as dried eggs can provide, such as the convenience of handling, preparation, and consumption, as well as lack of external tampering, the trend of using packaged food is skyrocketing in the market.
As consumers prefer ready-to-eat meals due to reduced cooking time to fit in a fast-paced lifestyle, industry manufacturers such as processors, food makers, and packaging businesses are reassessing packaged food items in terms of sustainability, transparency, and customer convenience. Dried eggs can fit into all the criteria incredibly well, making a permanent place in the packaged food industry.
Who is Winning?
Global disruption caused by COVID-19 prompted many market players to evaluate their portfolios and rethink their strategy in 2020 and 2021. Companies manufacturing dried eggs have redirected management efforts and capital into those parts of the organization with the biggest development potential, and have a clear competitive advantage as a result of these assessments, which have resulted in both, strategic acquisitions and divestitures.
The fact mentioned above has resulted in a tendency of companies adopting mergers and acquisitions to acquire talents that are not already in order, to enhance and reinforce their competitive advantage.
For example, Michael Foods Inc., a manufacturer and distributor of foodservice goods and culinary components, completed the acquisition of Henningsen Foods, America's largest processor of value-added egg products, from Kewpie Corporation in 2020.
Some of the leading companies offering dried eggs are Interovo Egg Group BV, Sanovo Technology A/S, Agroholding Avangard, Venky's (India) Limited, Kewpie Corporation, Rose Acre Farms, Rembrandt Enterprises, Michael Foods, Inc., Ballas Egg Products Corp., Henningsen Foods, and Wulro BV.
Get More Valuable Insights
Fact.MR, in its new offering, provides an unbiased analysis of the dried egg presenting historical demand data (2016-2020) and forecast statistics for the period from 2021-2031.
The study divulges compelling insights on the dried egg based on product type (whole eggs, egg whites, and egg yolks) and end-use application (food processing, bakery & confectionery, creamy sauces, ice cream and frozen desserts, mayonnaise, noodles & pasta, salad dressings, and others; food service providers; retails/household, convenience stores, discount stores, grocery stores, modern trade, online retail, specialty food/sports stores, wholesalers, and other sales channels), across seven major regions of the world (North America, Latin America, Europe, East Asia, South Asia, Oceania, and MEA).
About the Food & Beverage Division at Fact.MR
Expert analysis, actionable insights, and strategic recommendations – the food & beverage team at Fact.MR helps clients from all over the globe with their unique business intelligence needs. With a repertoire of over 1,000 reports and 1 million+ data points, the team has analysed the food & beverage industry lucidly in 50+ countries for over a decade. The team provides end-to-end research and consulting services; reach out to explore how we can help.
For more information, refer to our market research report or contact the PR author.
Nandini Roy Choudhury
Fact.MR
Sr. Consultant - Food & Beverages
E-mail: nandini@factmr.com
- Request for
More Information

-
Dried Egg Market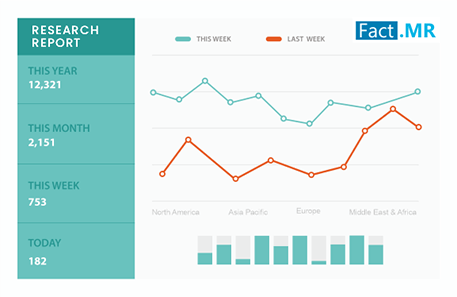 Dried Egg Market is Expected to Witness Rising Demand for Dried Egg Whites Segment during 2021-2031