Demand for Classic Vegetarian Frozen Soup to Incline at a CAGR of 5% through 2031: Fact.MR
Published : 02 Dec 2021 Industry: Food & Beverage
A recently published Fact.MR report projects that demand for frozen soup is expected to reach US$ 212.9 Mn by the end of the 2021-2031 forecast period, expanding at a CAGR of 6.5%. Demand is likely to receive a significant push amid growing preference for health boosting instant foods and beverages.
The market experienced steady growth from 2016 to 2020, clocking a CAGR worth 5%, closing in at US$ 107.2 Mn. Sales spiked significantly amidst the COVID-19 pandemic, as the imposition of stringent lockdowns curtailed outdoor dining activities, prompting an increase in home delivery options for soups and other instant food products.
A growing market for RTE products on the market boosted the demand for several traditional flavors of frozen soup in supermarket aisles. The progression of advertising in these modern stores prompted consumers to purchase these soups in the market and made them more appealing. As a result, the market for frozen soup has grown significantly in recent years.
Key Takeaways from the Market Study
By product type, classic vegetarian frozen soup to experience fastest growth, at a CAGR of 5.5%
Sales across wholesale distribution channels to remain prominent, capturing 40% of total revenue
U.S to remain the dominant market for frozen soup, accumulating a revenue share worth 45%
U.K to be the 2nd largest market for frozen soup, generating 30% revenue
1/5th of global market revenue for frozen soup to be generated by China
By 2021, frozen soup market is expected to reach US$ 113.42 Mn
"Prevalence of fast-paced lifestyles and the consequent increase in demand for health boosting instant foods is immensely widening the scope for frozen soup products in the global market, "says a Fact.MR analyst.
Competitive Landscape
Manufacturers and distributors can increase revenue and market share through strategic collaborations. In the near future, new products and technologies will empower end-users to enjoy the benefits of organic products. The result of a strategic collaboration can help an organization to increase its production.
In December 2020, Baxter Food Group completed the acquisition of Trutt Bross. With this acquisition, Baxter Food Group will be able to enter and expand its business into the U.S. markets. As Trutt is regarded to be the industry innovator, this acquisition will also help to satisfy the demands of customers with a variety of products.
In September 2021, Nomads Food Limited completed the acquisition of Fortenova Group's part of the frozen food business at the purchasing price of €615 million. With this acquisition, Nomad Food will obtain the good fortune of the Fortenova group and will be able to expand its business with a variety of frozen food products.
More Insights Available
Fact.MR's, in its new offering, presents an unbiased analysis of the frozen soups market, presenting historical demand data (2016-2020) and forecast statistics from 2021 to 2031.
The study divulges essential insights on the market based on product type (traditional, light, vegetarian classic, non-vegetarian, organic, noodle and other product types) and sales channel (wholesales/distributor/direct, supermarkets/hypermarket, convenience store, online retailers, and other retail format) across seven major regions (North America, Latin America, Europe, East Asia, South Asia, Oceania and Middle East & Africa).
Fact.MR's Domain Knowledge in Food & Beverages
Our food and beverages consulting team guides organizations at each step of their business strategy by helping you understand how the latest influencers account for operational and strategic transformation in the food and beverages sector. Our expertise in recognizing the challenges and trends impacting the global food and beverages industry provides indispensable insights and support – encasing a strategic perspective that helps you identify critical issues and devise appropriate solutions.
For more information, refer to our market research report or contact the PR author.
Nandini Roy Choudhury
Fact.MR
Sr. Consultant – Food and Beverages
E-mail: nadini@factmr.com
- Request for
More Information

-
Frozen Soup Market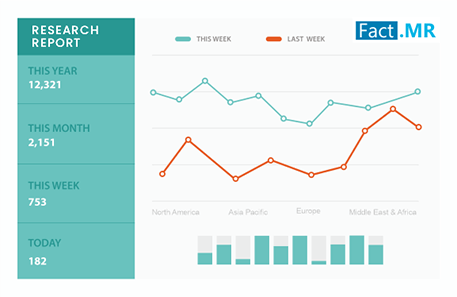 Frozen Soup Market Size, Share, Trends Report By Product Type (Traditional Frozen Soup, Light Frozen Soup, Vegetarian Classics Frozen Soup, Non Vegetarian Frozen Soup), By Sales Channel (Wholesale/ Distributors, Supermarket, Online) - Regional Forecast 2021-2031