Asia Pacific Fabric Glue Market Registers Major Gains, as Regional Apparel Exports Skyrocket, Reveals Fact.MR
Published : 16 Oct 2019 Industry: Consumer Goods
Global fabric glue market is anticipated to create US$ 150 Million worth of incremental opportunities over the forecast period. Fabric glue allows its users to sew the fabrics without using any thread or needle. Various alternatives like temporary and permanent fabric glue are creating lucrative opportunities in the fabric glue market. Manufacturers engaged in the apparel industry prefer to use various forms of fabric glue to craft beautiful handmade products with enhanced convenience. The manufacturers operating in the sportswear sector prefer to use permanent fabric glue instead of using conventional thread and needle sewing techniques for the long lasting fastening of sportswear. Increasing number of hygiene products manufacturers across the globe are expected to propel the sales of fabric glue to a greater extent in the years to come. Bostik, an Arkema company, has developed versatile fabric glue for usage in the feminine care industry.
According to the Fact.MR study, permanent fabric is likely to continue to steal the spotlight in the fabric glue market in the near future. Market players are expected to have exceptional profitable opportunities by developing fabric glue for hygiene products. The recent study conducted by Fact.MR reveals that the fabric glue market is expected to go beyond US$ 145 Billion by 2020. To cater to the massive demand for fabric glue, various manufacturers are increasing their production capacities rigorously. Recently, H. B. Fuller has acquired 'Cyberbond' to increase its production capacity and enhance its research & development activities. Numerous regional players operating in the fabric glue market are focused on offering fabric glue in various forms to suit the needs of the consumers. Leading companies operating in the market are making strategic collaborations with end use industries to increase their market share.
The report also suggests that the industrial use of fabric glue is expected to increase by nearly 200 BPS over the forecast period. The demand for light weight material in the automotive sector and growth in the apparel industry are the factors contributing to the enormous growth of fabric glue in the future. Leading manufacturers in the fabric glue market are developing better formulation processes to enhance the performance of their products for the target end use industry while reducing costs. The fabric glue market is expected to experience a stagnant growth for the household goods. However, various regional players such as Aleene's Premium Glue, Beacon Adhesives Inc., and Dritz are enhancing their product portfolio and are offering fabric glue tapes, dots, pens and sticks to enable the ease to its household consumers.
Market Players to Grab Opportunities in High-Growth and Lucrative Asian Markets
Market size for hygiene products in Asia is expected to reach more than US$ 38 Bn. Moreover, China, India, and Indonesia are the largest automobile manufacturing countries. Therefore, the increasing demand in Asian countries encourages manufacturers to increasing their production capacities. The local players have dominated the majority of the fabric glue market in South and East Asia. These domestic players are trying to use environment friendly ingredients for formulating safe fabric glue products for household consumption. Moreover, the major apparel exporters are mainly from the Asia Pacific region, including countries such as China, Sri Lanka, India, Bangladesh, Philippines, Indonesia, and Hong Kong. Fact.MR business intelligence also underlines company developments, which reveals that fabric glue manufacturers are focused on grabbing these noteworthy opportunities is Asian countries. For instance, Arkema SA, Henkel AG & Co. KGaA, H.B. Fuller Company are expanding their business footprint in Asian countries by acquisitions and joint venture plans.
This study underlines key opportunities in the fabric glue market and finds that the market would exhibit growth at a value CAGR of ~ 4% during the forecast period. For in-depth information on the fabric glue market, visit-
https://www.factmr.com/report/4263/fabric-glue-market
- Request for
More Information

-
Fabric Glue Market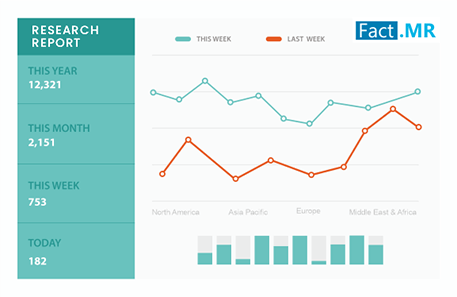 Fabric Glue Market Forecast, Trend, Analysis & Competition Tracking - Global Market Insights 2020 to 2030