Over 28% of Lactoferrin Market Revenue to be contributed by Iron Absorption Segment, Projects Fact.MR
Published : 02 Feb 2022 Industry: Food & Beverage
Lactoferrin market revenue was estimated at USD 234.5 Mn in 2021 and is expected to grow at a steady CAGR of 8% from 2022 to 2032. The market is predicted to reach a global valuation of US$ 546.77 Mn by the end of 2032.
Lactoferrin may have anti-inflammatory effects relevant to the pathophysiology of cases involving COVID-19. The lack of a cure or vaccine in 2020 led to an increase in the demand for immunity boosters. With the increasing popularity of preventive measures for the COVID-19 infection, lactoferrin-based products are expected to see an additional boost in demand in 2020. Lactoferrin-based infant formulas experienced immense demand following the outbreak of COVID-19, especially in Asia Pacific.
Over the forecast period, the lactoferrin market is expected to grow as a result of increased consumer awareness about gut health. This is in addition to the demand for products that reduce intestinal inflammation. Demand for the products is expected to be boosted by brand awareness bolstered by marketing efforts taken by brand owners, as well as the preference for organic products with minimal side effects and higher efficiency.
Key Takeaways from the Market Study
The global lactoferrin market is expected to reach a market size worth US$ 253.36 Mn at the end of 2022.
With a revenue share of over 41.5%, Asia Pacific will remain the largest regional market throughout the forecast period.
Iron absorption market accounted for over 28.5% of the overall revenue.
Infant formula segment accounts for more than 38.5% of the market's revenue
North America to accumulate a market share of 38% in 2022.
Increased awareness about maintaining gut health is prompting consumers to opt for lactoferrin products, providing manufacturers with the opportunity to introduce new products into the market, says a Fact.MR analyst.
Competitive Landscape
During the forecast period, both new entrants and existing players will focus on increasing their capacity in order to achieve a higher share of the market. The result will be a highly fragmented market by the year 2032.
The Beston Global Food Company Ltd expanded its lactoferrin production capacity to 25 metric tonnes in 2021 in response to a rising demand for lactoferrin.
Lactoferrin-based infant nutrition products made by Jatenergy Ltd., an Australian company, have seen an increase in sales. The company reported USD 5.4 million in sales in March 2020.
To meet the growing demand in the market, Friesland Campina DOMO announced in September 2020 it will increase lactoferrin production in Veghel from 9 tons to 60 tons by 2022.
More Insights Available
Fact.MR, in its new offering, presents an unbiased analysis of the global lactoferrin market, presenting historical demand data (2015-2021) and forecast statistics for the period of 2022-2032.
The study indulges essential insights on the market on the basis of function (iron absorption, anti-inflammatory, intestinal flora protection, antibacterial, immune cell stimulation and antioxidant) and application (food & beverages, infant formula, sports & functional foods, pharmaceuticals, personal care products and animal feed) across five major regions (North America, Latin America, Europe, Asia Pacific and Middle East & Africa).
Fact.MR's Domain Knowledge in Food & Beverages
Our food and beverages consulting team guides organizations at each step of their business strategy by helping you understand how the latest influencers account for operational and strategic transformation in the food and beverages sector. Our expertise in recognizing the challenges and trends impacting the global food and beverages industry provides indispensable insights and support – encasing a strategic perspective that helps you identify critical issues and devise appropriate solutions.
For more information, refer to our market research report or contact the PR author.
Nandini Roy Choudhury
Fact.MR
Sr. Consultant – Food and Beverages
E-mail: nandini@factmr.com
- Request for
More Information

-
Lactoferrin Market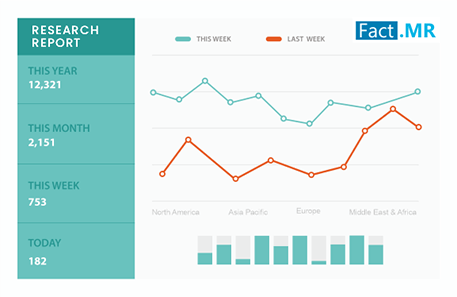 Lactoferrin Market Trend Analysis by Function (Antioxidant, Immune Cell Stimulation, Antibacterial, Intestinal Flora Protection, Anti-inflammatory, Iron Absorption), By Application, By Region - Global Forecast 2022-2032