UK Disposable Razors Sales Influenced by Declining Beard Trend: Study
Published : 20 Nov 2018 Industry: Consumer Goods
The disposable razors market in the U.K. continues on a steady trajectory, underpinned by manufacturer efforts in integrating better elements such as lubricated strips produced from vitamin E and Aloe. Easy availability and cost-effective offerings of manufacturers have further favored demand and sales of disposable razors in the U.K.
Leading players in the U.K. disposable razors market have been focusing on launch of new and advanced products to eat into shares of their competitors. For example, Gillette has recently launched its disposable razor, called "Sensor 3," which has been deemed as the world's rank 1 three-bladed disposable razor, which offered multiple shaves (nearly 10) before it is disposed. Other products of Gillette such as Blue 3TM and BlueTM Simple 3 are among key product offerings of Gillette.
Fact.MR's new study on disposable razors market tracks the global disposable razors market. A summary of the report is available upon request.
Growth of Beard Trend and Its Impact on Razor Blades Sales
Growing stubble style beards has been linked to men who seek leveraging their gender advantage, with modern female population becoming more assertive and confident. Indecent thoughts have inadvertently inculcated into minds of men, who perceive distinguishing clean-shaved men from women to be a major concern.
The razor blades manufacturers, on the other hand, are concerned about financial influence of the beard trend on major disposable razor manufacturing companies such as Procter & Gamble. A slight, yet transparent, decline has been witnessed in the demand for shaving products, as increasing percentage of men sport facial hair – a trend more palpable among younger Millenials.
However, leading companies are tapping into alternative areas such as growing popularity of the body-shaving among men, despite threat for razor sales from the facial hair business. Companies such as P&G have developed online search intelligence tools, to seek opportunities from "manscaping" – a term used to denote trimming or shaving of excess hair.
The resurgence in the popularity of beards is fast tapering off, undergird by the preference for hygiene, discipline, and uniformity among a significant percentage of Millennials. Additionally, beards are now becoming a clear rejection, albeit superficial, of trappings and comforts of urban living. "To appear distinguished is to appear misplaced," a once popular concept is on a decline, although slow. This significantly favors the shaving trend, thereby creating demand for disposable razors.
Razor Subscription on Verge of Saturation, International Brands Eating into Shares of Domestic Players
No sector has been disrupted by the fight for subscriptions as much as the men's shaving market. Innovation, once limited to high-tech release from leading players, has recently witnessed remarkable breakthrough success of the online-only subscriptions. Despite burgeoning product mix, engaging social campaigns, and irreverent brand identity, online subscription providers are permeating the market, which is already on the brim of saturation, with several online subscription grooming brands.
Another significant aspect gaining emphasis, while these brands compete based on overall service, subscription models and cost, is the potential revenue stream of creating female-focused or gender-neutral disposable razors. Subscription-only are also becoming vulnerable to the consumer demand for various electronic shaving alternatives. Online-only subscription brands who focus on creating distinct propositions, which are differentiated by branching into wider product mix and gender-neutral alternatives, are expected witness a promising growth in the near future.
International brands, such as Dorco – South Korean market leader, are eating into shares of players in the razor subscription sector of the U.K. Mix of low cost disposable razors, products for both genders, and friendly brand voice, are key strategies of these international players that are leading them into the U.K. razor subscription space. Dual gender approach is emerging as a robust heritage as well as a friendly brand promotion strategy among disposable razor manufacturers in the U.K. marketplace as well as globally.
Aforementioned insights are according to an analytical research report of Fact.MR. The report also offers forecast on the disposable razors market for the period between 2018 and 2027.
- Request for
More Information

-
Disposable Razors Market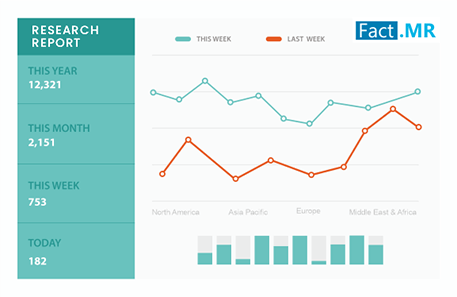 Disposable Razors Market Forecast, Trend Analysis & Competition Tracking - Global Review 2021 to 2031