High Strength Premixes to See Robust Sales as More Millennials Prefer Low-Alcohol Beverages, Projects Fact.MR
High Strength Premixes Market
Published : 11 Nov 2019 Industry: Food & Beverage
An eight-fold growth in global alcohol consumption sets the stage for accelerated performance of high strength premixes market, with millennials in particular inclined towards low alcohol drinks. The prevalent trend of easy-to-make alcoholic beverages and cocktails in North America, positions the region along a high growth trajectory in the market. High strength premixes market is highly fragmented, characterized by a large number of small-scale online retailers. On the back of these factors, the global high strength premixes market to register a growth of more than 5% over the forecast period (2019-2027).
Key Takeaways from High-Strength Premixes Market Study
High-profit margins and presence of a moderate regulatory landscape are encouraging manufacturers to develop innovative flavors of high-strength premixes to capture a larger share of the market
Spirit based RTD (Ready to Drink) grabs significant share of the overall market and is one of the fastest pockets of growth, showing no signs of slowing down
Fact.MR opines that increasing awareness about the risk of alcohol consumption, the high price associated with high-strength premixes and drinks, and the enactment of stricter laws on distribution of liquor products, may hamper growth of the high-strength premixes market in APEJ
To gain a competitive edge over established players, emerging companies are offering their products in cans, which is more preferred by millennials. However, leading players continue to offer their products in glass bottles for increasing shelf life of the products.
In European countries, per capita spending on high strength premixes is relatively high
Innovative marketing strategies such as online retailing will be beneficial for manufacturers and distributors to expand their global footprint. For instance, in many regions, brands are garnering more consumer traffic through online retailing platforms for enhanced visibility.
"Demand for spirit-based RTD is significantly high in Estonia, as well as other European countries. Demand for ready-to-drink or high-strength premixes continues to surge, while stringent regulations in regions such as North America and Europe may cause the market to witness a further decline in consumption and growth of high-strength premixes in the near future." says the Fact.MR analyst.
Affordability, Tourism and Convenience: Winning Imperatives for Growth in Key Regions
Fact.MR opines that demand for high-strength premixes is expected to increase in Latin America, owing to the high-affordability and convenience of such beverages. The emergence of multicultural societies and growing popularity of exotic liquor is revving up alcohol consumption habits among consumers in the APEJ region. Restriction on the consumption of alcohol in the Arab world continues to be a major challenge for the MEA high-strength premixes market. However, due to globalization and increasing tourist inflow into countries such as Qatar and UAE, many global market players are entering the region with strong business intent.
Find More Valuable Insights on High-Strength Premixes Market
Fact.MR, in its new offering, brings to fore an unbiased analysis of the global high-strength premixes market, presenting historical demand data (2013-2018) and forecast statistics for the period, 2019-2027. The study divulges compelling insights on the high-strength premixes market on the basis of product (spirit-based RTD, wine-based RTD, high-strength RTD, malt-based RTD), sales channel (specialty stores, modern trade, duty-free stores, online stores, other sales channel) across seven major regions.
About the Food & Beverage Division at Fact.MR
From food ingredients, to finished food products, Fact.MR caters to the requirement of entire value chain of the food and beverages sector. A team of passionate food and beverages industry analysts track the performance of the existing food and beverages as well as those that have just entered their product life cycle. Having over 1,000 published as well as upcoming reports, Fact.MR boasts of having over 1 million plus data points that are collected from 50+ countries for over a decade. The food and beverages team at Fact.MR has been assisting clients in their business expansion as well as new venture, through their analysis and recommendations.
- Request for
More Information

-
High Strength Premixes Market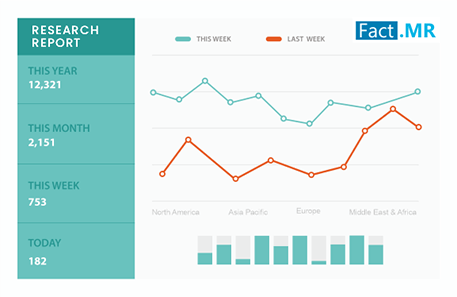 Malt-Based RTD High Strength Premixes to Upsurge the Sales of High Strength Premixes During 2021 To 2031