8 Key Prospects on Future of Surface Cleaning Products Market during 2017-2022
8 Key Prospects of the Surface Cleaning Products Market for the Forecast 2017 to 2022
Published : 29 Jul 2017 Industry: Consumer Goods
Fact.MR's recently published report estimates growth of the global surface cleaning products market to remain slack over the forecast 2017 to 2022. The global surface cleaning products market is anticipated to account for revenues worth over US$ 20,000 Mn by 2022-end.
In underdeveloped countries, cost of surface cleaning products is of primary importance, as the population thriving in these countries have low disposable incomes and people cannot afford to spend much on these products. This factor is expected to significantly impact growth of the market. Leading manufacturers are now developing cost-efficient products to increase their presence in these regions. Strict regulations imposed by the government pertaining to utilization of cleaning agents, owing to the presence of environment-abusive chemicals are further expected to hinder demand for surface cleaning products. In order to overcome, these challenges, the manufacturers are now focusing on technological innovations, and investing in research & development activities, in order to offer novel products that are eco-friendly and user-friendly. These factors are expected to impact growth of the global market for surface cleaning products over the forecast period.
Cleaning the surfaces without using detergents, or soaps, or other similar products requires a lot of time, which the present population cannot spare in their fast-paced daily regime. This in turn has necessitated demand for favorable products, capable of making tasks related to cleaning easy and quick. Currently, rise in purchasing power of people in developing as well as developed economies has enabled them to pay more for essential household requirements such as cleaning agents, for keeping the residential as well as commercial spaces clean and fresh. Rise in focus on communal hygiene, soaring awareness about personal hygiene, and concerns regarding the widely spreading infectious diseases, are expected to influence adoption of surface cleaning products, thereby sustaining the market growth.
8 Key Projections for the Global Surface Cleaning Products Market
With more than half share of the market in terms of revenues, liquid surface cleaning products will continue to be sought-after among consumers across the globe.
Sales of wipes and liquid surface cleaning products are estimated to register a parallel expansion through 2022.
In terms of revenues, grocery stores will remain dominant in the global surface cleaning products market, based on distribution channels. However, sales of surface cleaning products in grocery stores are expected to exhibit the lowest CAGR over the forecast period.
Sales of surface cleaning products in e-commerce distribution channel are projected to register the highest CAGR through 2022.
By packaging format, bottles will remain preferred among consumers in the global market, with revenues account for over half share of the market throughout the forecast period.
Pouch is expected to be the second most lucrative packaging format type of surface cleaning products.
Europe is expected to retain its dominance in the global surface cleaning products market, closely followed by North America.
The markets in Middle East & Africa (MEA), and North America will continue to register similar CAGRs through 2022, North America being a more lucrative region for the market than MEA.
The report has also profiled leading manufacturers of surface cleaning products, which include companies such as Henkel, Reckitt Benckiser, S.C Johnson & Son Inc., Unilever plc, Bombril, Church & Dwight, Clorox, Dabur, Dainihon Jochugiku, Ecover, Kao, Kobayashi Pharmaceutical, Nice Group, and The Procter & Gamble Co.
- Request for
More Information

-
Surface Cleaning Products Market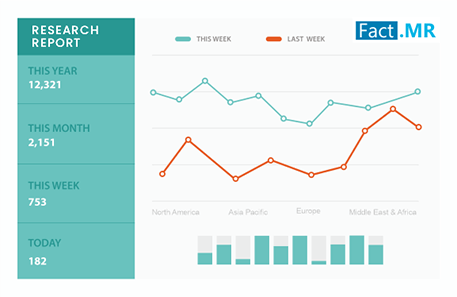 Surface Cleaning Products Market Forecast, Trend Analysis & Competition Tracking: Global Market insights 2017 to 2022