Green Chelates Market
Green Chelates Market Analysis, By Type (Sodium Gluconate, Ethylenediamine-N, N'-disuccinic acid (EDDS), L-glutamic acid N, N-diacetic acid (GLDA), Methyl glycindiacetic acid (MGDA), Others) and Region - Market Insights 2023 to 2033
Analysis of Green Chelates Market Covering 30+ Countries Including Analysis of US, Canada, UK, Germany, France, Nordics, GCC countries, Japan, Korea and many more
Green Chelates Market Outlook (2023 to 2033)
Based on the analysis by Fact.MR, the global green chelates market is estimated to be valued at US$ 322.0 Million in 2023 and it is expected to grow at 4.6% CAGR reaching US$ 526.1 Million by the end of 2033.
The global chelates market has been growing steadily in recent years, driven by the growing demand in various industries, including agriculture, pharmaceuticals, and personal care.
Chelates are used as micronutrient supplements to improve plant growth and increase yields. Thus, the demand for chelates in agriculture is driven by the growing population and the need to produce more food to meet the increasing demand. Overall, the global chelates market is expected to continue growing in the coming years, driven by the development of new and innovative chelating agents.
Report Attributes
Details

Green Chelates Market Size (2022A)

US$ 322.0 Million

Estimated Market Value (2023E)

US$ 334.9 Million

Forecasted Market Value (2033F)

US$ 526.1 Million

Global Market Growth Rate (2023-2033)

4.6% CAGR

East Asia Market Share (2023)

29.8%

China Market Growth Rate (2023-2033)

5.4% CAGR

Key Companies Profiled

Actylis
BASF SE
Evonik Personal Care
Innospec
NIPPON SHOKUBAI CO., LTD
Nouryon
Peptech Biosciences Ltd
Don't Need a Global Report?
save 40%! on Country & Region specific reports
Historic and Future Pathway Analysis for the Green Chelates Market
The demand for green chelates has emerged in response to the increasing awareness of the environmental impact of traditional chelating agents. Concerns over toxicity, persistence, and bioaccumulation of conventional chelates have driven the need for more sustainable alternatives. Industries such as agriculture, cleaning products, water treatment, and personal care have been seeking greener solutions, leading to the growth of the green chelates market.
The market for green chelates has been expanding globally, with North America, Europe, and Asia Pacific being key regions. Developed economies, such as the United States and countries in Western Europe, have been early adopters of green chelates due to stricter regulations and sustainability initiatives. Emerging economies in Asia Pacific have also shown increasing demand, driven by environmental concerns and the adoption of sustainable practices
Short Term (2023-2026): Growing end-use industries such as pharmaceutical, personal care, and others across the globe are anticipated to drive the green chelates market during the short term.
Medium Term (2026-2029): Growth in agricultural sector and rising population around the Asia Pacific region mainly India and China will drive the demand for green chelates during midterm.
Long Term (2029-2033): Technological advancements and continuous research and development will lead to higher demand in long term.
On the back of the aforementioned facts, the green chelates market is anticipated to grow at a CAGR of 4.6% during the forecast period from 2023-2033, according to the Fact.MR, a market research and competitive intelligence provider.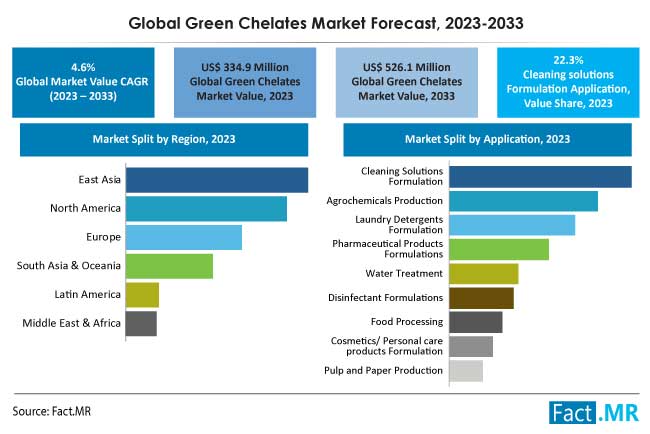 Market share analysis of green chelates based on type and region is provided in a nutshell in the above image. Under the Application segment, the demand from cleaning solutions formulation application dominates with 22.3% market share in 2023.
Market Dynamics Outlook
"Growing Agricultural Sector Increases Green Chelates Demand"
The use of green chelates in agriculture is growing and has become increasingly popular in recent years. Green chelates improve plant productivity and nutrient uptake which in turn enhance crop productivity and profitability of commercial crop production.
Chelates are particularly effective at improving the availability of micronutrients, such as zinc, iron, manganese, and others, which are essential for plant growth and making them more available for plant uptake. As the demand for sustainable agriculture practices grows, the use of chelating agents, including green chelates, is expected to increase further.
Green chelates derived from natural, renewable sources offer an eco-friendly alternative to traditional chelating agents, making them an attractive option for farmers and agricultural companies looking to reduce their environmental impact while improving plant growth and yield.
Green building certifications such as LEED (Leadership in Energy and Environmental Design) and BREEAM (Building Research Establishment Environmental Assessment Method) inspire the use of environmentally friendly materials and construction practices. Green chelates, as sustainable alternatives to conventional chelating agents, contribute to meeting the requirements for these certifications.
Overall, the growing population across the world increases the demand for a higher food supply consequently increasing the consumption of more food. Thus rising agricultural practices will affect the growth of green chelates and increase the sales of green chelates.
"Growing demand for green chelates in manufacturing of cleaning products and detergents"
Green chelates are consumed in a wide range of industries beyond their traditional applications in agriculture and water treatment. As consumers become more aware of the impact of their purchasing decisions on the environment, demand for eco-friendly products is growing across many sectors.
Green chelates offer natural, sustainable alternative to traditional chelating agents in cleaning products and detergents, among others. The use of green chelating agents in these industries can help companies meet sustainability goals and appeal to environmentally conscious consumers.
In cleaning products and detergents, green chelates can help improve cleaning performance, while reducing the environmental impact of the products. In personal care, green chelates can be used as an alternative to synthetic preservatives, providing natural, sustainable solutions for cosmetics and personal care products. As the demand for sustainable products continues to grow, the expanding applications of green chelates in various industries offer significant opportunities for market growth.
"Higher Costs of Green Chelates Can Limit Their Adoption"
Despite the growing demand for green chelates, there are several expected barriers that may limit the market growth. One major barrier is the higher cost of green chelates compared to traditional chelating agents. This can limit their adoption in certain applications, especially those where cost is a primary concern.
Green chelating agents are typically produced using more expensive and complex manufacturing processes, and the cost of raw materials may also be higher compared to traditional chelating agents. This can make them less attractive to companies that prioritize cost over environmental sustainability.
Some applications may require chelating agents in huge quantities, which can further drive up the costs of using green chelates. Thus, companies may need to balance the benefits of using green chelates against the increased costs and determine which applications would be most suitable for their use.
More Insights, Lesser Cost (-50% off)
Insights on import/export production,
pricing analysis, and more – Only @ Fact.MR
Country-wise Insights
What are the Factors Driving Green Chelates Demand across U.S.?
In the North American region, especially in the U.S., the construction industry has embraced green building practices, driven by the popularity of certifications such as LEED (Leadership in Energy and Environmental Design).
Green chelates find applications in various aspects of construction and cleaning products used in sustainable building projects, and the market size of the U.S. construction sector was valued at around US$ 1.6 Tn in 2021 and is expected to increase further in the coming years.
For instance, The Turner Corporation ranked as the leading construction contractor in the United States spending on constructing residential, nonresidential, and other buildings is expected to generate some recorded figures in the coming year.
In North America, green chelates market is growing at a 4.4% CAGR during the forecast period and is projected to reach a valuation of US$ 130.0 Mn by the end of 2033.
Why India's Green Chelates Market is flourishing?
Asia Pacific region is likely to create multiple opportunities for green chelates market to grow during the assessment period. It is projected that the market for green chelates especially in India will grow at a CAGR of 6.6% during the forecast period and will hold a valuation of US$ 5.3 billion by the end of 2033.
Agriculture sector has a major share in overall Indian economy, and the demand for sustainable agricultural practices is increasing. Green chelates finds application in crop nutrition, soil health management, and sustainable farming practices. Green chelates find extensive use in the agriculture sector as they help enhance nutrient absorption and prevent metal ion toxicity in crops.
The market for green chelates in India is projected to grow from US$ 18.4 Mn in 2023 to US$ 34.5 Mn in 2033 growing at a CAGR of 6.5% during the forecast period.
Category-wise Insights
Why Do Green Chelates Have Major Share in the L-glutamic acid N, N-diacetic acid (GLDA) Market?
GLDA is a biodegradable and environment friendly chelating agent. It is derived from renewable sources and has a low toxicity profile. GLDA meets regulatory standards and guidelines set by various environmental agencies and organizations. It is recognized as a safe and effective chelating agent for diverse applications. GLDA is used in cleaning products, detergents, industrial processes, and agricultural formulations, among others.
The growing emphasis on environmental sustainability, regulatory compliance, and the shift towards greener and bio-based products have propelled green chelates demand, specifically GLDA whose consumption is expected to grow from 9,292.9 Tons in 2023 to 13,788.1 Tons in 2033 growing at a CAGR of 4.0%.
How Does the Cleaning Solutions Formulation Application of Green Chelates Drive the Market?
Demand from cleaning solutions application is one of the prominent pillars in the green chelates market, because of growing demand for eco-friendly cleaning products. Green chelates are sustainable materials that are used in various cleaning applications such as detergents, dishwashing liquids, and laundry detergents, where they can improve cleaning efficiency while reducing environmental impact.
Green chelates are effective in removing hard water stains and mineral buildup from surfaces. It makes them a popular choice for cleaning solution manufacturers, who are looking to meet the growing demand for sustainable and eco-friendly products.
These factors collectively drive the market for cleaning solutions formulated with green chelates, shaping the industry towards more sustainable and responsible cleaning practices.
Know thy Competitors
Competitive landscape highlights only certain players
Complete list available upon request
Eminent Player's Key Stratagems
Eminent green chelates manufacturers are Actylis, BASF SE, Evonik Personal Care, Innospec, NIPPON SHOKUBAI CO., LTD, Nouryon, and Peptech Biosciences Ltd.
Manufacturers are prioritizing the use of renewable and biodegradable raw materials for the production of green chelates. They are sourcing ingredients from sustainable and eco-friendly sources, such as plant extracts, bio-based polymers, and natural compounds. By positioning themselves as leaders in the green chelates market, manufacturers aim to differentiate their offerings and attract environmentally conscious customers
Fact.MR has provided detailed information about the price points of key manufacturers of green chelates positioned across regions, sales growth, production capacity, and speculative technological expansion, in the recently published report.
Segmentation of Green Chelates Industry Research
By Type :

Sodium Gluconate
Ethylenediamine-N, N'-disuccinic acid (EDDS)
L-glutamic acid N, N-diacetic acid (GLDA)
Methyl glycindiacetic acid (MGDA)
Others (Sodium Iminodisuccinate, etc.)

By Application :

Disinfectant Formulations
Cosmetics/ Personal care products Formulation
Pharmaceutical Products Formulations
Cleaning Solutions Formulation

Household Cleaners Production
Dishwasher Solutions Production
Industrial Cleaning Solutions Production

Laundry Detergents Formulation
Pulp and Paper Production
Agrochemicals Production
Food Processing
Water Treatment

By Region :

North America
Latin America
Europe
East Asia
South Asia & Oceania
Middle East & Africa
- FAQs -
The global green chelates market was valued at US$ 322.0 Million in 2022.
The regions included in the green chelates market study include North America, Latin America, Middle East & Africa, South Asia & Oceania, East Asia, and Europe.
Prominent players in the market are Actylis, BASF SE, Evonik Personal Care, Innospec, NIPPON SHOKUBAI CO., LTD, Nouryon, and Peptech Biosciences Ltd.
The market is expected to reach a valuation of US$ 526.1 Million in 2033.
The historic growth rate of the green chelates market was 3.7% from 2018-2022.